Steel Mills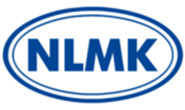 NLMK USA Results Hurt by Strike and Slab Shortage
Written by Sandy Williams
February 12, 2021
---
NLMK USA sales in the fourth quarter of 2020 increased 1% from the third quarter to 370,000 metric tons. Sales plummeted 22% from a year ago due to low capacity utilization at NLMK Pennsylvania attributed to the ongoing strike and a shortage of slabs for duty-free import. Rolling capacity utilization at the U.S. segment was 41 percent in the fourth quarter, said company executives reporting quarterly results.
Higher hot-rolled steel prices in Q4 lifted revenue by 11% to $248 million compared to the third quarter. EBITDA totaled $107 million, primarily due to a refund of $97 million in a settlement agreement with the U.S. Department of Commerce. The settlement resolved a lawsuit by NLMK challenging Commerce's denials of NLMK's requests for exclusion from Section 232 tariffs. Excluding the refund, EBITDA was $10 million.
On a full-year basis, sales in the U.S. segment fell 27% from 2019 to 1.6 million metric tonnes as the COVID-19 pandemic impacted demand and output. Revenue for the segment plunged 37% on lower steel prices and sales.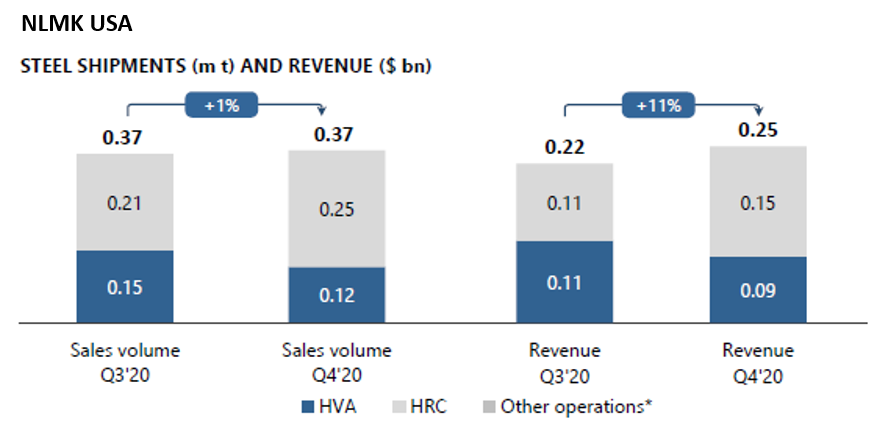 EBITDA for the year was $76 million versus a loss of $37 million in 2019. Excluding the fourth quarter refund from Commerce, EBITDA was negative $21 million.
NLMK Pennsylvania and the United Steelworkers have yet to reach agreement on a contract, prolonging a strike by members that began Aug. 22, 2020.
The NLMK outlook for the U.S. indicates a strong price environment and above average lead times.
NLMK Group Results
NLMK Group, NLMK USA's Russian parent, reported $2.4 billion in revenue during the fourth quarter, a 7% gain from Q3 and 3% from Q4 2019. Revenue for the year was down 12% to $9.2 billion from 2019 due to lower steel prices in the second and third quarters and an increase in the share of semifinished products.
"In Q4 2020, the recovery in business activity, including in the form of pent-up demand and restocking in the global supply chain coupled with a limited supply of steel products, led to a spike in steel product prices in our key regions. High iron ore prices supported this trend," said NLMK Group CFO Shamil Kurmashov. "In 2020, despite the constraints of the pandemic, we maintained our capacity utilization rates and were able to achieve a 3% yoy increase in EBITDA, reaching $2.6 billion."
Equipment upgrades at NLMK Lipetsk are expected to increase steel output to 3.5 million tonnes in the first quarter of 2021. The company is optimistic about business conditions for the first quarter.
"Global steel prices in January 2021 were at multi-year highs, driven by high demand for steel amid limited supply," said NLMK in a press release. "Considering the price increase in late Q4 2020 and the sales recognition time gap, average sales prices in Q1 2021 will be higher qoq, which have a positive impact on our financial performance."
CEO Grigory Fedorishin said current high global steel prices are unsustainable and will likely normalize in the first quarter.
By Sandy Williams, Sandy@SteelMarketUpdate.com

Latest in Steel Mills