Service Centers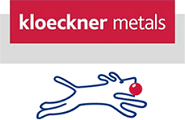 Klöckner's 2020 Results Suffer from Pandemic
Written by Tim Triplett
March 11, 2021
---
The adverse effects on markets resulting from the COVID-19 pandemic led to a 19% decline in Klöckner & Co.'s sales in fiscal year 2020, to about 5.1 billion euros or $6.1 billion U.S., the company reported Wednesday. One of the largest steel distributors in Europe and North America, Klöckner reported a net loss of 114 million euros or $136.7 million.
"Every crisis is also an opportunity. So we do not look back over the past year with a solely negative perspective," said Klöckner CEO Gisbert Rühl. "With the Surtsey project launched immediately after the onset of the pandemic, we gave an additional boost to our digital transformation. The resulting positive effects are now becoming increasingly visible and will lead, together with the growing demand and the high price level, to a considerably improved income in the current year."
Klöckner is pursuing a digital strategy, employing the latest technology to streamline sales and achieve greater efficiencies. Digital sales increased to 45% in the fourth quarter, up from 32% in the same quarter the prior year, the company said.
A significant contribution to this increase came from Kloeckner Assistant, an AI-driven software application for automated processing of quote requests and orders. With Kloeckner Assistant, the company said it is well on track to generate over 60% of group sales via digital channels in 2022.
Growth of the XOM Materials open industry platform has accelerated considerably, the company added. Gross merchandise volume (GMV)—the value of all the products sold on the platform—increased in 2020 by a factor of 13 to over 140 million euros or $167.7 million U.S. One key factor in this rapid growth was the XOM Materials eProcurement tool, which makes it easy for buyers to compare offers containing multiple items and featuring different terms and conditions. Since the beginning of the year, the eProcurement tool has also been available in the U.S. and Brazil. The group expects a continuation of the dynamic growth and a GMV of over 1 billion euros or $1.2 billion U.S. this year.
The company's efforts to digitize the business actually got a boost from the pandemic, Ruhl said. "Corona has clearly shown that many things were suddenly possible and were much faster to be implemented than in the past. Digitizing the whole value chain is key going forward."

Latest in Service Centers