Steel Products Prices North America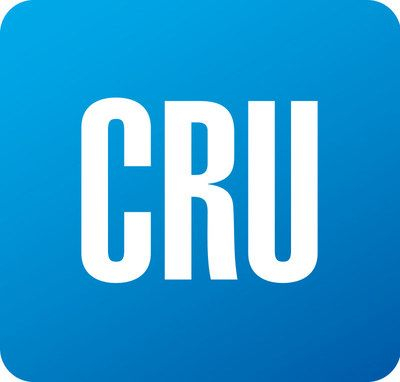 CRU: Iron Ore Reaches a Record-High of $220/dmt
Written by Erik Hedborg
March 16, 2021
---
By CRU Principal Analyst Erik Hedborg, from CRU's Steelmaking Raw Materials Monitor
Iron ore prices have jumped by over $30 /dmt in the past week as Chinese markets reopened with exceptionally bullish sentiment among futures traders. Both iron ore and steel prices witnessed unprecedented price increases in the past week and on May 11, CRU assessed the 62% Fe fines price at $220.0 /dmt, a $32.0 /dmt increase w/w.
Following a five-day Labor Day holiday, the Chinese steel market reopened on May 6, and Chinese steel prices have since skyrocketed. Domestic HRC and rebar prices have gone up by RMB830 /t and RMB850 /t, respectively, compared with the last assessment prior to the holiday. Such sharp price increases were not supported by supply-demand fundamentals but more associated with speculative trading. In fact, deduced underlying steel demand slightly dropped over the holiday period for both steel flat and long products. Our trader contacts told us that the massive and rapid price increases were on the back of the expectation that steel demand would remain elevated while steel production cuts would be expanded from Tangshan and the rest of Hebei province to other regions, tightening the market balance. Nonetheless, we have yet heard any formal announcement of such production cuts in previously rumored Shandong and Jiangsu province. We believe massive money supply in the market is flooding into the commodity sector, which is also playing a role in supporting these price gains.
High steel prices and margins have consequently lifted steelmaking raw materials prices through demand improvement by means of higher actual consumption and inventory build-up. The surveyed BF capacity utilization further edged up over the Labor Day holiday and is now very close to peak levels in mid-February. This provided a good reason for Chinese steelmakers to keep buying raw materials to maintain intensive operation and building inventories to reduce the risk of downtime caused by shortages of raw materials supply. Particularly, steelmakers continued to prefer medium-to-high grade iron ore wherever accessible in order to lift BF productivity and maximize steel production, and this resembles the market condition in 2017-2018 when steel production cuts were in place.
On the supply side, we have seen one of the strongest weeks of the year with all Australian producers continuing to ship at a high rate. Brazilian trade data for April showed a m/m decline, but exports were up nearly 2 Mt y/y, bringing the total y/y increase for the first four months of the year to 13 Mt (+14%). This is mostly due to favorable weather conditions in southern Brazil and successful restarts of Vale's and Samarco's operations. Samarco is now close to its 8 Mt/y nominal capacity and has exported 1.6 Mt of material in the first four months this year plus some additional shipments to the domestic market.
In the coming week, we expect a price correction as the fundamentals do not support the recent price rally. Seaborne supply is picking up and is exceeding last year's levels. Inventories in China have been steady at levels considerably higher than last year and the strong seaborne supply will result in high arrivals to Chinese ports in the coming weeks.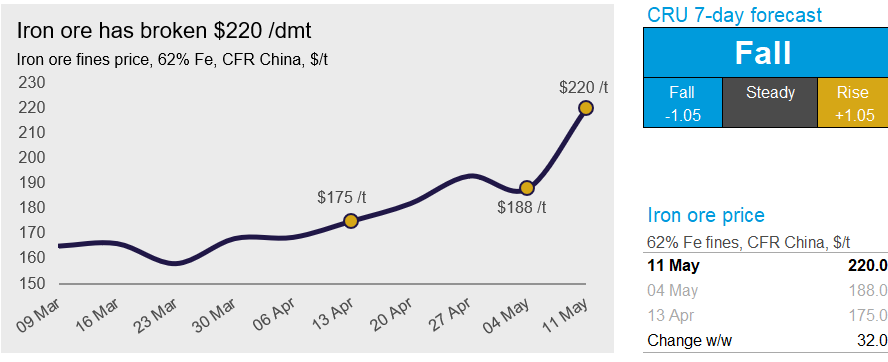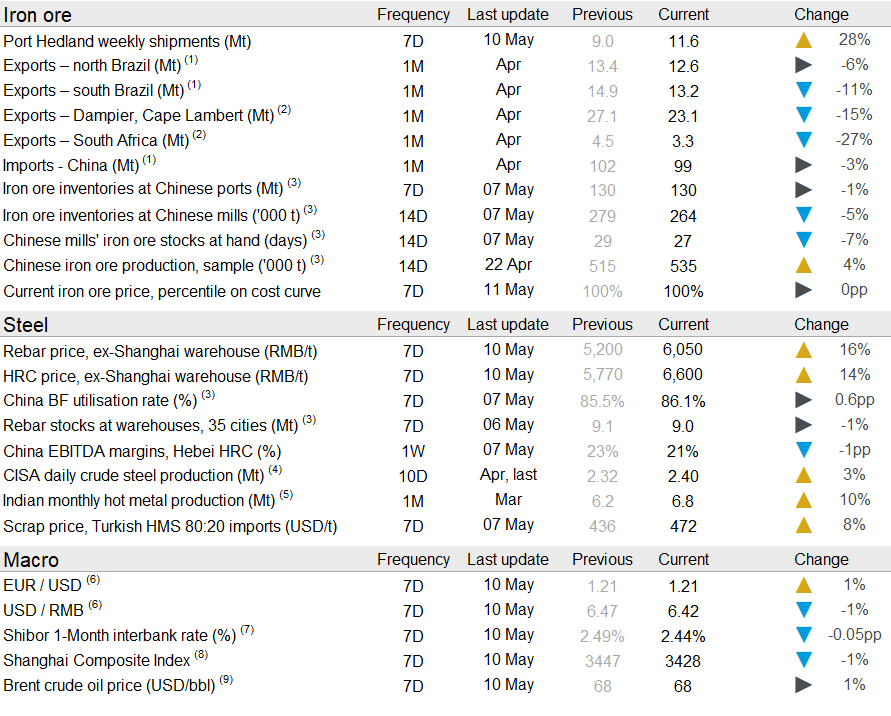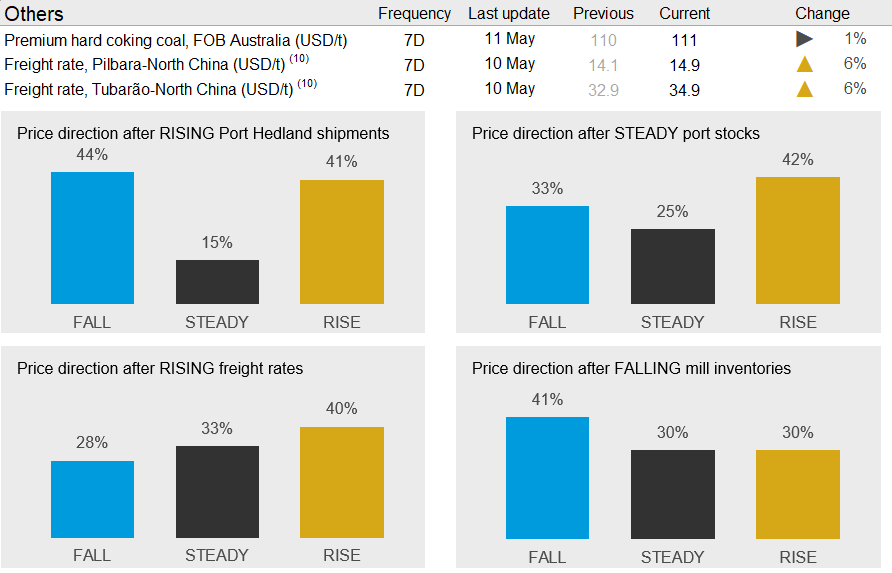 Request more information about this topic.
Learn more about CRU's services at www.crugroup.com
Latest in Steel Products Prices North America