Steel Mills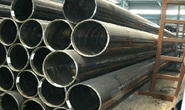 Tenaris to Add Staff, Tech at Conroe to Support Bay City Ramp-up
Written by Sandy Williams
March 26, 2021
---
Tenaris plans to add 140 employees at its Conroe, Texas, pipe plant to operate the heat treatment and finishing areas of the facility. The additional staff is needed to support processing loads from the Bay City seamless mill as it returns to full capacity.
A $600,000 technology investment is underway at Conroe that will provide the plant with tracking and traceability capabilities as part of the Tenaris Rig Direct model. Rig Direct is a service that integrates the supply of pipes and accessories from the mill to the rig, focusing on process and operational efficiency, the company said.
Included in the model is RunReady, which includes the production of pipes at Tenaris mills, delivered ready for installation with Tenaris managing the application of running compound, performing inspections and generating digital tallies via its proprietary PipeTracer technology. PipeTracer tracking and traceability provides customers with the history of each pipe, including specs, guidelines and digital tallies of the pipe through a mobile device.
Tenaris U.S. President Luca Zanotti says the increased activity at Conroe is an "initial step in ramping up our operations across the U.S." Tenaris plans to ensure all of its manufacturing facilities in the U.S. will be able to utilize and offer the Run Ready service.
"Through this unique service, we can deliver pipe to our customers ready to be run into the well. Quality starts at our mills and extends through our distribution network all the way to our customer well sites. By Tenaris managing all the prep work of our products before it is dispatched, this is an additional opportunity to mitigate risks with less pipe handling, reducing time and boosting efficiency for running operations," said Zanotti.

Latest in Steel Mills