Steel Mills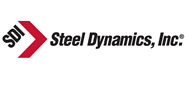 Steel Dynamics CEO: "It's Going to Be a Great Year!"
Written by Sandy Williams
April 20, 2021
---
Steel Dynamics Inc. had a stellar first quarter and looks forward to its new Sinton, Texas, mill beginning production later this summer. The $1.9 billion EAF mill is designed with production capabilities that will compete with traditional integrated steel producers, providing a differentiated product portfolio with a climate-conscious focus, SDI said.
Four customers have committed to onsite fabrication, producing a wide range of light- and heavy-gauge products for auto and pipe consumers. Talks continue with other customers who hope to locate near the mill. In total, they will account for about 1.4 million tons of the new mill's volume, the company reported during its earnings call Tuesday.
The Sinton mill is expected to be at 80 percent of capacity or 2.2 million to 2.4 million tons of shipments by 2022. The paint, galvanizing and pickle lines will be operational in June before the hot side, said CEO Mark Millett, with limited shipments in July. Volumes will be somewhat constrained due to strong SDI backlogs. The hot strip mill will be commissioned in September with shipments beginning in the fourth quarter of 2021. In order to build up work-in-process inventory, not every ton produced will be shipped following start-up. Volume is expected to be 150,000 to 200,000 tons in the fourth quarter.
Sinton is likely the last greenfield hot mill for Steel Dynamics, said Millett. Future incremental capacity will occur through the addition of assets to take advantage of existing hot metal capacity, such as the four coating lines recently announced by the company. SDI is adding a 300,000-ton galvanizing line with Galvalume coating capability as well as a 240,000-ton paint line in the South that will be supported by flat rolled steel from Sinton. Two matching lines will be located at an undetermined site in the Midwest and supported by the Butler and Columbus facilities. Both sites are expected to begin production in the second half of 2022.
Additionally, by late summer 2021, SDI will add staff to improve utilization and operations, increasing production capability by 25-30% or about 100,000 tons. SDI mills operated at 93% capability in the first quarter. Millett noted that with the completion of the Sinton mill, capability will increase from around 13 million tons to over 16 million tons.
Millett is not worried about further tightening of the scrap supply from additional steelmaking capacity coming online in the U.S. Most of the regional production capability in the U.S. has returned from pandemic-related shutdowns and any further additions are likely to be limited, he said. Scrap and scrap substitutes are expected to outpace demand. SDI estimates that 4 million tons of additional prime scrap will be needed, which could easily be accommodated in the 12-15 million tons that are currently exported by the U.S. annually. New innovations in steel production are also reducing scrap requirements for EAFs. Steel Dynamics expects it will be able to reduce its prime scrap use by 10 percent or more. "If the whole electric-arc furnace flat roll producing industry were to do that, obviously that's a meaningful reduction as well," said Millett. "[Scrap] may appreciate in price to some degree, but I don't believe you're going to see any significant issues from a profitability or a cost perspective for the electric-arc furnace community," he added.
SDI expects flat roll steel supplies to remain tight. Imports are not likely to become an issue due to most buyers' reluctance to take speculative risks on imports. Also, multiple economies are in a strong recovery phase and require steel to meet growing demand, so availability of foreign material is constrained. Millett is encouraged by the Biden administration's trade policy and does not expect substantial changes to steel tariffs or trade restraint.
"From our perspective, demand is phenomenal across almost every sector—very, very strong—and it would appear to be there for the rest of this year, going into next," said Millett. Residential construction and HVAC are booming and automotive has had one of the quickest recoveries from the pandemic due to robust vehicle sales. Auto dealers are struggling to find inventory, which is reported to be 30 percent below the five-year average.
The automotive chip shortage is expected to impact vehicle production by 1.0-1.5 million units. So far, the auto plants that have had outages are not ones SDI supplies, so there has been no impact. There may be a slight effect on prime scrap supply due to the outages, but overall SDI expects prime scrap prices to remain firm to slightly higher. 
"We had a phenomenal first quarter," said Millett. "I think the second quarter is going to be multiples of phenomenal. It is going to be a great year!"
By Sandy Williams, Sandy@SteelMarketUpdate.com

Latest in Steel Mills