Service Centers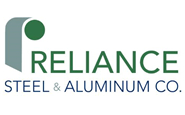 Record Prices Produce Record Results at Reliance
Written by Tim Triplett
April 22, 2021
---
Reliance Steel & Aluminum Co., the nation's largest metals distributor and processor, reported record pretax income of $359 million in first-quarter 2021, fueled by the unexpectedly high steel prices and solid demand in most of the markets the company serves.
"The combination of a record quarterly gross profit margin, average selling prices well above our expectations and our continued focus on expense control contributed to record pretax income and record quarterly earnings per diluted share of $4.12," Reliance CEO Jim Hoffman told analysts and investors during the company's quarterly conference call today.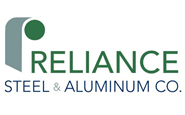 Reliance sales for the quarter totaled $2.84 billion, a 33% improvement from the prior quarter and up 10.3% from the same quarter last year, most of which concluded before the pandemic shocked the economy. Net income of $266.9 million was more than double the prior quarter and up more than 332% from the same quarter last year.
"We experienced ongoing strength in metals pricing, led by multiple price increases for carbon steel products, along with improving demand in many markets, and leveraged our decentralized operating structure, small order sizes, and diversification of products, end markets and geographies, to achieve a record gross profit margin for the third consecutive quarter of 33.6%," Hoffman said.
Reliance improved its inventory turn rate to 5.4 times, surpassing its 2020 annual rate and company-wide turn goal of 4.7 times. Reliance operates more than 300 stocking locations across North America. "Our ability to cross-sell inventory among our family of companies, which we believe is a significant advantage and differentiator of our model and scale, was a key contributor to our strong inventory management," Hoffman said. "Despite extended mill lead times and inventory shortages, the collaboration among our companies and our strong, long-standing relationships with the domestic mills, enabled us to source the metal needed by our customers."
Reliance serves diverse end markets and provides a wide range of products and processing services, generally in small quantities on a when-needed basis. During the first quarter of 2021, the company's tons sold increased 11.3% compared to the fourth quarter of 2020, in-line with Reliance's expectations of a 10-12% improvement, which includes the normal seasonal increase in shipping volumes compared to the fourth quarter.
At about 1.4 million tons sold in the first quarter, Reliance's tonnage sold was actually down slightly from the same period last year. But the average selling price per ton was much higher this year at $2,020 due to the record-high steel prices, compared with an average of $1,742 in Q1 2020.
While demand is healthy and continues to improve in most markets, the company's tons sold have not yet reached pre-pandemic levels, company executives said. Reliance believes underlying demand is stronger than its first-quarter shipment levels reflect due to factors holding back economic activity such as metal supply constraints, labor shortages and supply chain disruptions for Reliance, its customers and its suppliers.
Demand in non-residential construction (including infrastructure), Reliance's largest end market, continued to improve in the quarter, approaching pre-pandemic levels. Reliance is cautiously optimistic that demand for non-residential construction activity will remain steady at the current solid levels based on healthy backlogs and quoting activity along with positive customer sentiment.
Demand for the toll processing services Reliance provides to the automotive market continued to improve, surpassing activity levels in both the fourth and first quarters of 2020. Reliance maintains a positive outlook for this end market as automotive OEMs and steel and aluminum mills continue to ramp production. Reliance reported little impact from the microchip shortage that has disrupted some automotive production.
Demand in heavy industry for both agricultural and construction equipment continued to improve in the first quarter. Demand for industrial machinery used in manufacturing processes was also strong.
Commercial aerospace is a notably poor sector for Reliance. Demand in the military, defense and space portions of Reliance's aerospace business remained strong with backlogs improving during the quarter, however, offsetting some of the weakness on the commercial side. Reliance expects demand for commercial aircraft to improve throughout 2021.
Likewise, demand in the energy (oil and natural gas) market improved in the first quarter, and Reliance anticipates further modest improvement in the second quarter of 2021.
While macroeconomic uncertainty stemming from the COVID-19 pandemic persists, Reliance management remains optimistic about business conditions and strong underlying demand in the majority of its end markets. However, factors impacting shipment levels in the first quarter of 2021, such as metal supply constraints and supply chain disruptions for many of Reliance's customers, are expected to continue in the second quarter. Despite these factors, the company estimates its tons sold will be flat to up 2.0% in the second quarter. Metal pricing is expected to remain near current levels, with the potential for further upside in certain products. Since current metal prices are substantially higher than the average selling price in the first quarter of 2021, management estimates its average selling price per ton sold for the second quarter of 2021 will be up 5-7%.
As always, Reliance remains vigilant for acquisition opportunities among service centers and adjacent businesses, Hoffman said, without offering any specifics about current prospects. "We are always on the prowl looking for good companies. We looked into 100 companies last year and none made sense. We will continue to look. If you buy the right company, you can do really good things."
By Tim Triplett, Tim@SteelMarketUpdate.com

Latest in Service Centers