Steel Markets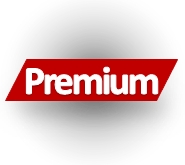 Premium: North American Auto Assemblies Gain Ground in March
Written by David Schollaert
May 6, 2021
---
Steel Market Update is pleased to share this exerpt from one of our Premium articles with Executive members. For information on the benefits of upgrading to a Premium-level membership, email Paige@SteelMarketUpdate.com.
Auto assemblies in North America gained ground in March for the first time since October, according to LMC Automotive (LMCA). North American production rose to 1.217 million units in March, up from 1.092 million in February, but production continues to suffer from the ongoing shortage of semiconductor chips. North American production was up 20.1% in March compared to year-ago levels when the pandemic was beginning to slow the economy. The annual production rate in March was 14.6 million units, up from 13.1 million units the month prior. 
While the U.S. market continues to work through the effects of the pandemic, chip shortages and supply chain disruptions that have tightened vehicle inventories, the selling rate for U.S. light vehicles reached 18.0 million units per year, up from 15.8 million units in February. This was also the highest ever selling rate for the month of March, according to LMCA. Canada's light vehicle sales totaled 172,000 units, up by 76.2% compare to year-ago sales. Canada's selling rate was 1.9 million units per year in March, up slightly from February. Meanwhile, the Mexican market grew by 9.2% year on year in March, to 95,000 units sold, while the annualized selling rate was 1.1 million units. For comparison, Figure 1 shows U.S. sales and North American production.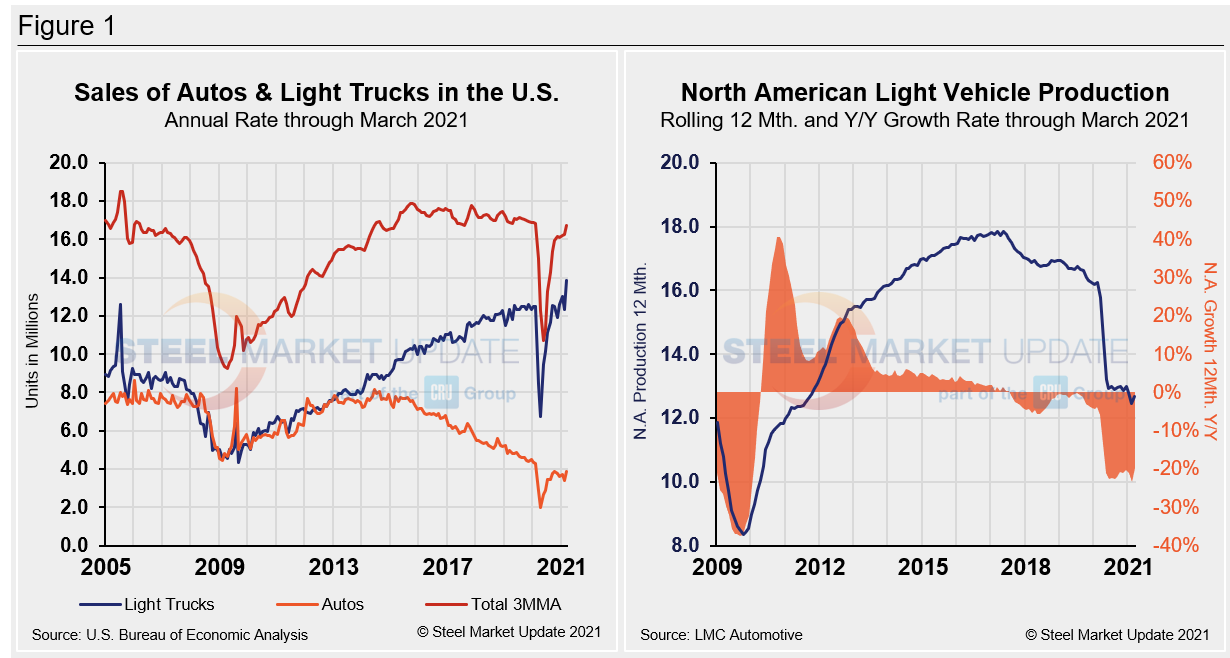 A short-term snapshot of assembly by nation and vehicle type is shown in the table below. It breaks down total North American personal and commercial vehicle production into the U.S, Canadian and Mexican components, along with the three- and 12-month growth rate for each. At the far right it shows the momentum for the total and for each of the three nations. In three months through March, total personal vehicle assemblies in the USMCA region were negative 12.6% year over year as supply chain disruptions from the chip shortage further impacted production. The results are a slight improvement, however, from February's growth rate of negative 13.5%, and still a strong turnaround from the pandemic-induced decrease of 70.5% seen in June 2020. Commercial light vehicle assemblies were up 5.1% year over year in March, a strong improvement from a negative 3.6% in February and miles away from the negative 71.7% in March of 2020. Note that there has been zero commercial vehicle production in Canada for 15 consecutive months. Despite the overall poor performance on the three-month growth rate, the momentum shift remains positive with total personal vehicle production on an 8.4% rise while commercial is at a 21.3% rise.

Editor's Note: This abbreviated report is based on data from LMC Automotive for automotive assemblies in the U.S., Canada and Mexico. The full report includes a breakdown of assemblies for "Personal" vehicles (cars for personal use) and "Commercial" vehicles (light vehicles less than 6.0 metric tons gross vehicle weight rating; heavy trucks and buses are not included).
By David Schollaert, David@SteelMarketUpdate.com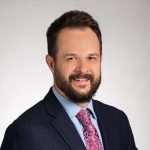 Latest in Steel Markets