Steel Products Prices North America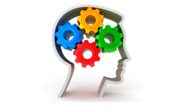 Pricing Commentary: Don't Get Lulled by the Happy Headlines
Written by Tim Triplett
July 20, 2021
---
Steel Market Update does not forecast steel prices. That's a fact that can sometimes get lost in all the pricing data we publish. Please don't let the good news and happy headlines you've been reading in SMU every week make you complacent. It's convenient to listen to the many readers quoted in this newsletter who predict a second half much like the first. But don't count on it.
SMU surveys service center and OEM executives each week to find out how much they have paid for steel recently or, barring a purchase, what the mills were offering. Based on their responses, we come up with a price range and calculate the average price tag for the various flat rolled and plate products in the prior week. We even go so far as to indicate whether prices appear to have upward or downward short-term momentum. But we are never going to tell you what the price of steel will be next week.
Prices have risen relentlessly for an entire year now—with the benchmark price of hot rolled coil averaging a new record high of $1,850 per ton. Which lends itself to two types of statistical bias: irrational exuberance ("let the good times roll!") or hopeless pessimism ("There's gonna be a bloodbath any minute!). The fact that the past, very unusual year has seen a historic surge in steel prices may have little to do with what's in store for the future.
Unlike SMU, analysts at our parent company, CRU, are indeed in the business of forecasting steel prices. Their view is inconveniently rational and unfortunately disconcerting. They see a market correction in the cards likely before the end of the year – and it has far more to do with what's coming in the next few months than what has happened in the past 12.
It's basically a matter of supply finally starting to catch up with demand, in their view (see chart below). CRU has been forecasting a pretty sharp correction since the second quarter, but the timing has been pushed out by various mill outages, both planned and unplanned. Their latest prediction is for slight moderation of steel prices as soon as next month, followed by steep declines in the fourth quarter as new steelmaking capacity and a new wave of imports hit the U.S.
SDI plans to start up its new Sinton, Texas, EAF mill in the fourth quarter, slightly delayed from September, adding 2.7 million tons of production to the market. Nucor Gallatin's Kentucky expansion also will add 1.5 million tons in Q4. North Star BlueScope's expanded mill in Delta, Ohio, will contribute 850,000 new tons in December or January. Thus, the U.S. market will see about 5 million tons of new EAF supply in the span of just four months. Not counting a difficult-to-estimate number of import tons. That almost certainly will loosen steel supplies and affect pricing to some degree.
The timing and impact of CRU's forecast is not without risks, of course. COVID is far from eradicated and could result in further shutdowns to stem its spread in certain parts of the country. Automotive production and steel demand from that sector will depend on how long the microchip shortage persists. The cost of steelmaking raw materials – iron ore and metallics – are subject to many unpredictable global forces. Russia's 15% export tax due to take effect Aug. 1, for example, has actually led to falling prices as exporters push through sales of steel and pig iron ahead of that deadline.
We all can agree change is inevitable. It's just a matter of how much and when. Remember, as you read SMU's report in this issue about yet another increase in steel prices, it's time for vigilance, not complacency.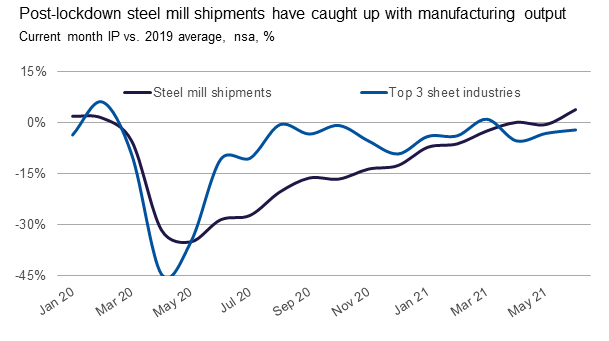 Source: June industrial production data from the Federal Reserve & CRU
CRU Principal Analyst Josh Spoores will be among the experts speaking on steel prices during Steel Market Update's Steel Summit to be held Aug. 23-25 in Atlanta. Click here for more information.
By Tim Triplett, Tim@SteelMarketUpdate.com

Latest in Steel Products Prices North America