Economy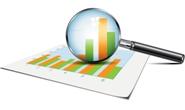 Heating and Cooling Equipment Shipments Fall 8% Through October
Written by Brett Linton
December 13, 2022
---
US heating and cooling equipment shipments declined further in October, according to recently released data from the Air Conditioning, Heating, and Refrigeration Institute (AHRI). Total shipments in October were 1.79 million units, 8% less than September levels and down 13% compared with the same month last year. October represents the third-lowest shipment rate recorded in the last 18 months, just ~5,000 units above the lows seen in November 2021 and July 2022.
Recall that shipment levels bounced around over the summer months; June saw the fifth-highest monthly shipment rate in SMU's 14-year history. July shipments fell 20% month over month (MoM) to a then eight-month low, the largest monthly decline seen since late 2020. August saw a MoM increase of 12%.
The average monthly shipments level for the first ten months of 2022 is now 1.99 million units, down from an average of 2.07 million units in the same period of 2021. Shipments averaged 2.03 million units per month throughout 2021, up 10% vs. the 2020 average of 1.85 million units per month.
Shipments are beginning to ease on a 12-month moving average (12MMA) basis, averaging 1.96 million units per month between November 2021 and October 2022. This is the lowest 12MMA rate recorded since March 2021, down 4% from March 2022's record high of 2.04 million units.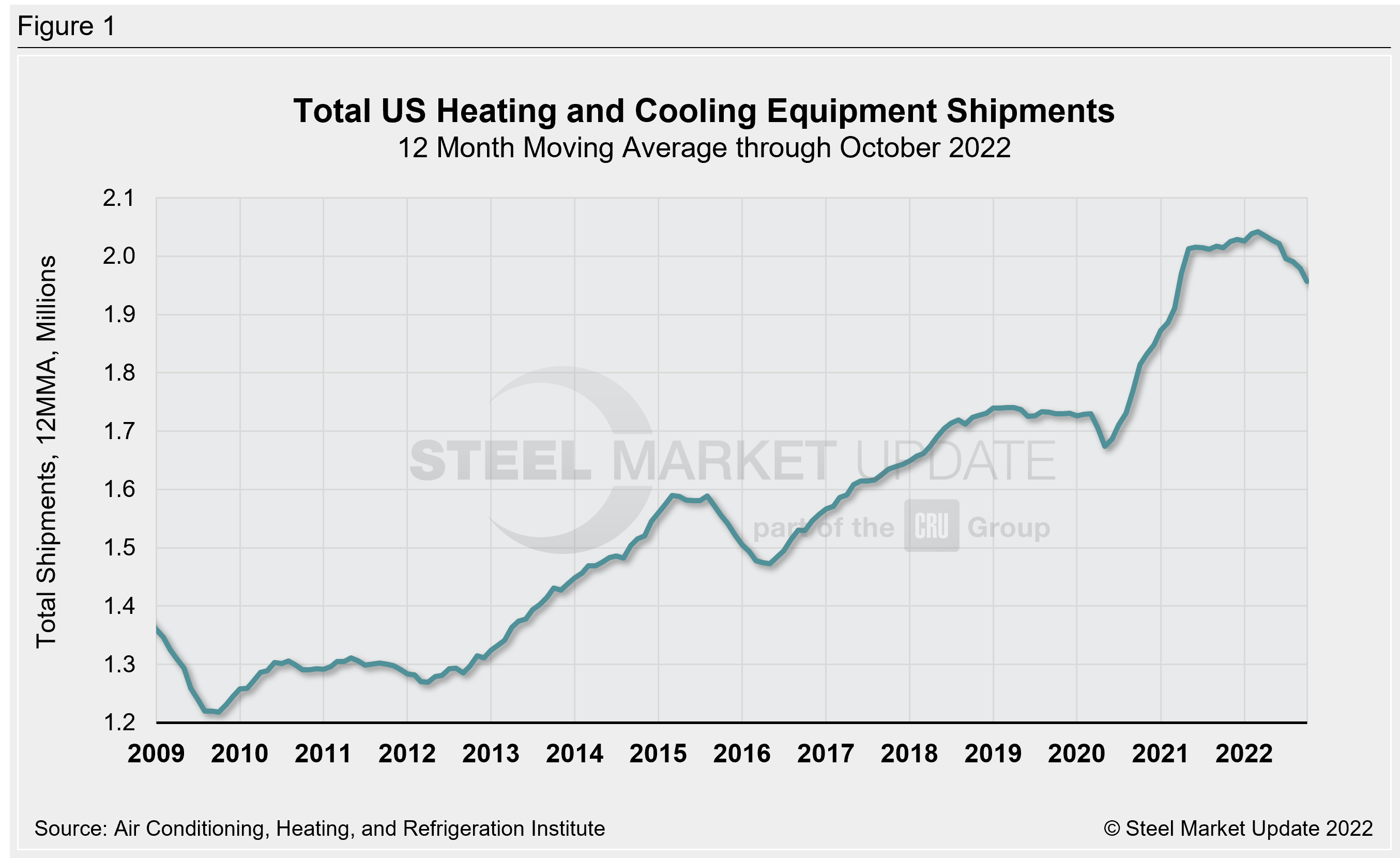 As shown in the chart below, total heating and cooling shipments on a three-month moving average (3MMA) basis through October are down 7% compared with the same period one year prior. One month before this we saw a year-over-year (YoY) growth rate of -8% in September, the largest negative rate recorded since June 2020. May and June 2021 hold the record high 3MMA annual growth rates at 32% and 27%, respectively. Between November 2021 and April 2022, we saw a steady annual growth rate of 2–3% each month. Prior to 2020, the highest rate in our history was in February 2015 at 17%.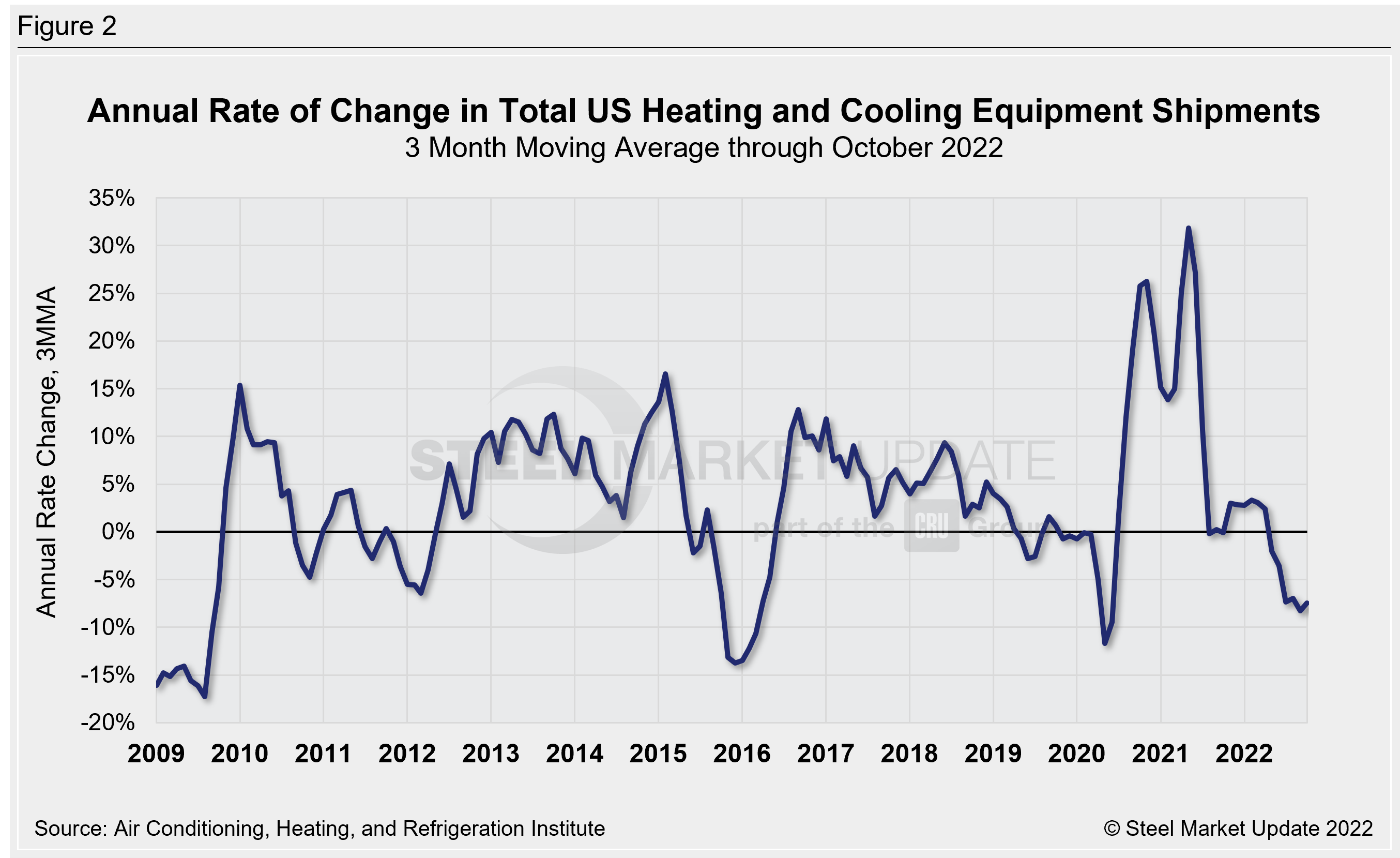 Residential and commercial storage water heater shipments decreased 23% YoY to a combined 709,000 units in October: 693,000 units were shipped for residential use and 15,000 units for commercial use. Water heater shipments were up 5% MoM.
October shipments of warm air furnaces totaled 320,000 units, a decrease of 4% compared with the same month last year. Shipments for warm air furnaces declined 10% from September.
Central air conditioners and air-source heat pump shipments were down 4% vs. one year ago, totaling 760,000 total units in October: 396,000 air conditioners and 364,000 heat pumps were shipped. AC and heat pump shipments were down 17% compared with levels one month prior.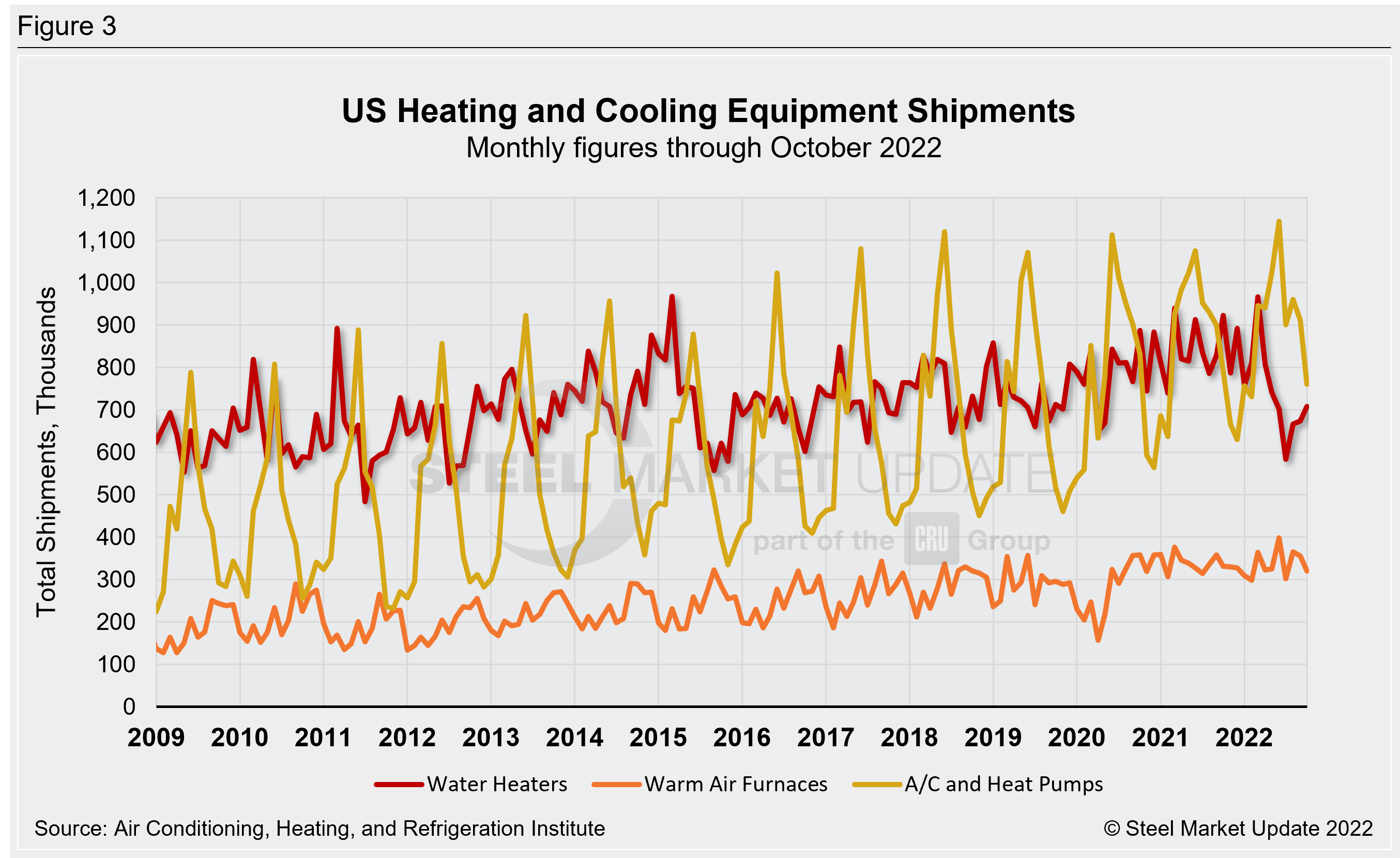 Year-to-date (YTD) shipments through October 2022 totaled 19.85 million units. This is down 4% in comparison to the first ten months of 2021 when shipments totaled 20.71 million units. 2022 YTD shipments are up 6% compared with the same period of 2020 when they stood at 18.71 million units.
As seen in the chart below, 2022 YTD shipments for water heaters totaled 7.42 million units, 12% below the same period of 2021. Warm air furnace shipments totaled 3.36 million units YTD, down 1% YoY. Air conditioner shipments totaled 9.07 million units in the first ten months of this year, up 2% from the same period last year, and now the highest October YTD figure seen in our data history.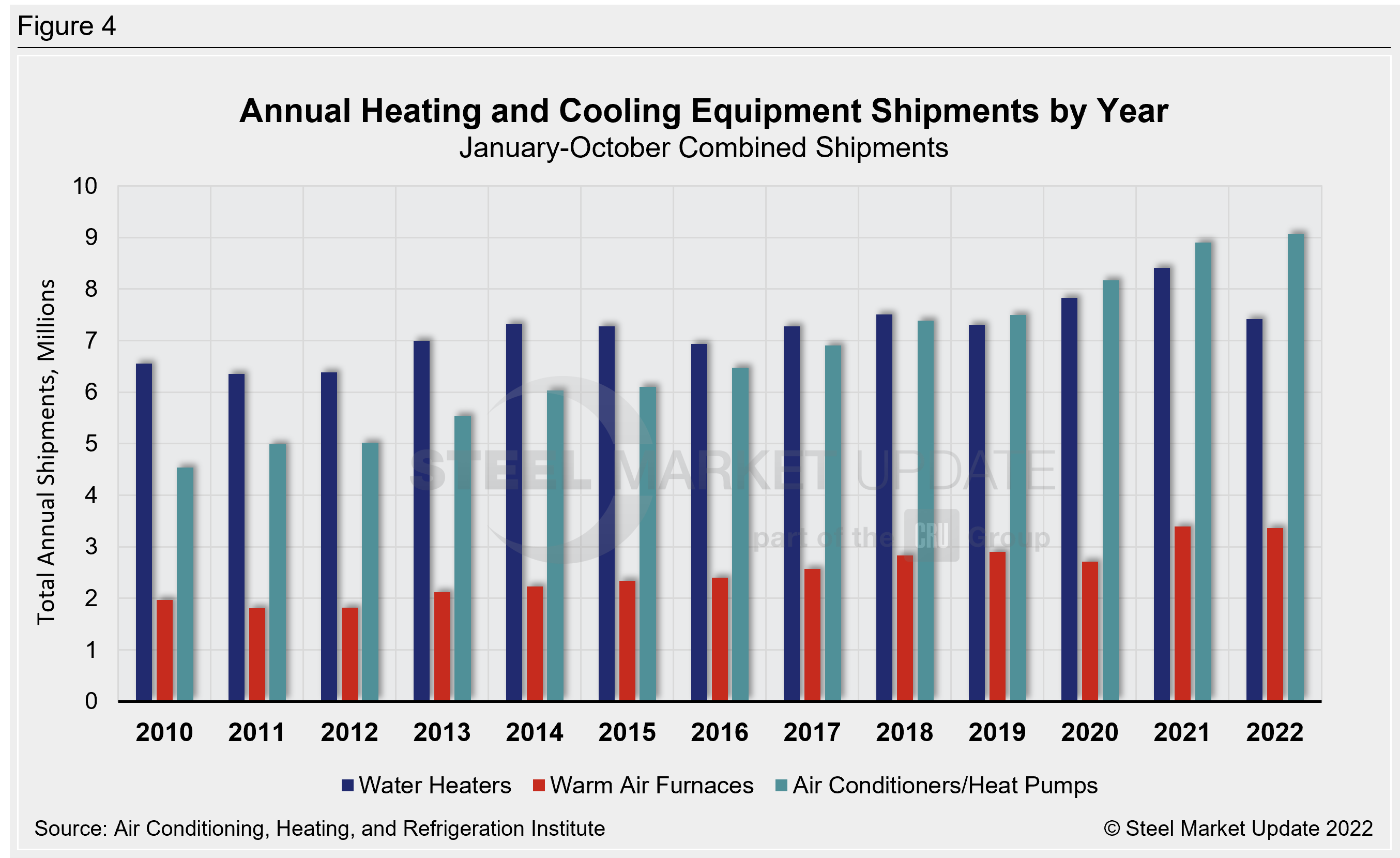 The full press release from which this data comes from is available on the AHRI website.
An interactive history of heating and cooling equipment shipment data is available on our website. If you need assistance logging in to or navigating the website, please contact us at Info@SteelMarketUpdate.com.
By Brett Linton, Brett@SteelMarketUpdate.com

Latest in Economy