Steel Markets
Tampa Steel Conference: Algoma Transition to EAF On Track
February 7, 2023
---
Algoma Inc.'s transition from an integrated to electric-arc furnace steelmaker is on track and full-steam ahead, according to company CEO Michael Garcia.
Garcia, with Sault Ste Marie, Ontario-based Algoma for six months, sat down with SMU managing editor Michael Cowden for a Fireside Chat during CRU's Tampa Steel Conference Feb. 5-7.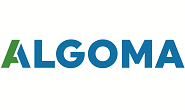 "To put it simply, we are transforming an integrated steel-producing company with blast furnace and coke ovens, with capacity of passing 2.8 millions liquid tons of steel," Garcia said. "And we are putting in two very large EAF furnaces… and transitioning to a 3.8-million-liquid-ton steel company with 25% of the emissions we had before."
He said they are taking their carbon emissions from 4 million tons per year to 1 million tons.
Garcia said there is a physical gap of about a quarter mile between the blast furnace and their steel shops. It's around this location where they are building the new EAF steel shop and scrap handling area.
The blast furnace has been there for over 120 years. While there were some small surprises, that's all behind them, Garcia said. The foundations have all been poured and the first girder of steel above elevation will be placed Feb. 14.
"The project is progressing on time, on schedule, and on budget, which is about Canadian $700 million," Garcia said, admitting that it is a complex process.
In fact, both the EAF and the integrated mills will be running in tandem for a short period of time in order to keep up with customer demand, and making sure there is no lag in production.
"We're a single site steel company, so we can't shut down for two or three months," Garcia said.
He noted that the first heap of the new EAF will be mid-year of 2024, and for a few month they will continue to run iron out of the blast furnace. Additionally, the BOF can be used if there any issues as the EAFs ramp up to full production.
However, he said after a few months the blast furnace will be fully decommissioned.
He believes Algoma's access to cheaper power costs, logistic advantage on the lakes, ability to source scrap, and Canadian dollar advantage put the mill in a unique position.
Still, with the move over to EAFs, Garcia expects to see the work force there shrink from 2,400 to 1,700 or 1,800. He hopes that most of these will be achieved through retirement, adding that the average worker age there is 50, and in the steel trades is between 55-66.
In fact, Garcia cited finding workers as a particular challenge for Algoma.
"Labor is hard to get to, hard to attract," Garcia said. But the company has several outreach programs in the community and with local universities to try to address the need for skilled workers.  
When asked about his outlook for 1H 2023, Garcia smiled. "Air Canada lost my crystal ball," he joked.
Still, he said recent price moves may show a tightening of the market, and thinks the market is relatively well balanced.
Summing up, and talking more broadly, Garcia reflected on the importance of steel as a material going forward for the world economy.
"How great is it to be in the steel industry?" he said.  
By Ethan Bernard, ethan@steelmarketupdate.com
Latest in Steel Markets