SMU Data and Models
SMU Current, Future Buyers Sentiment Indices Rise
March 31, 2023
---
Both SMU's Steel Current and Future Buyers Sentiment Indices have increased from two weeks ago, according to SMU's most recent survey data.
The Steel Buyers Sentiment Indices measure how steel buyers feel about their company's ability to be successful in the current market, as well as three to six months down the road. Every other week we poll steel buyers about sentiment. We have historical data going back to 2008.
SMU's Current Buyers Sentiment Index stood at +79, up three points from the last market check (Figure 1). Even with possible economic headwinds on the horizon, current sentiment remains bullish.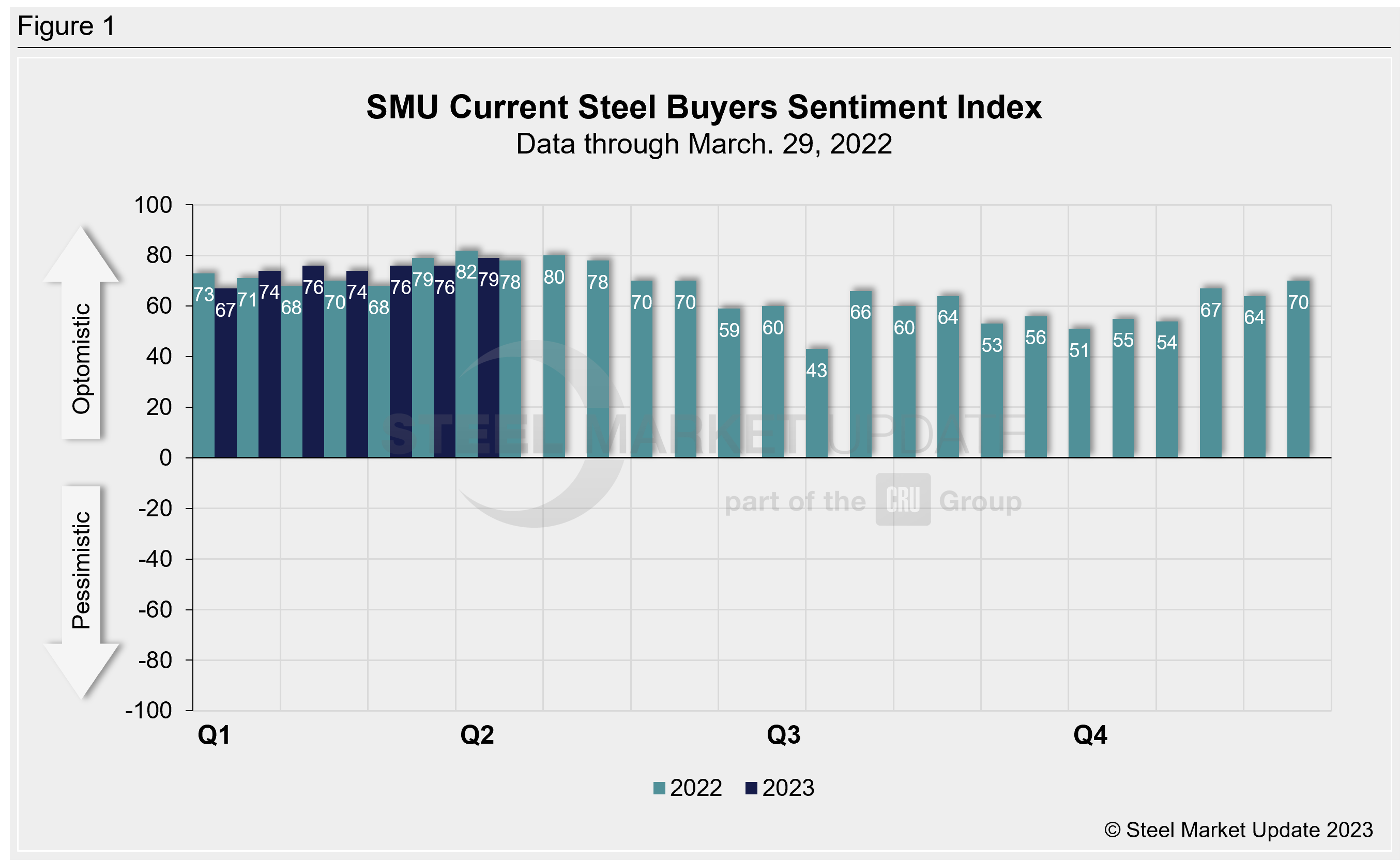 SMU's Future Buyers Sentiment Index measures buyers' feelings about business conditions three to six months in the future. The index rose three points to +67 compared with two weeks ago. Despite the slight rebound, it is still trailing current sentiment significantly.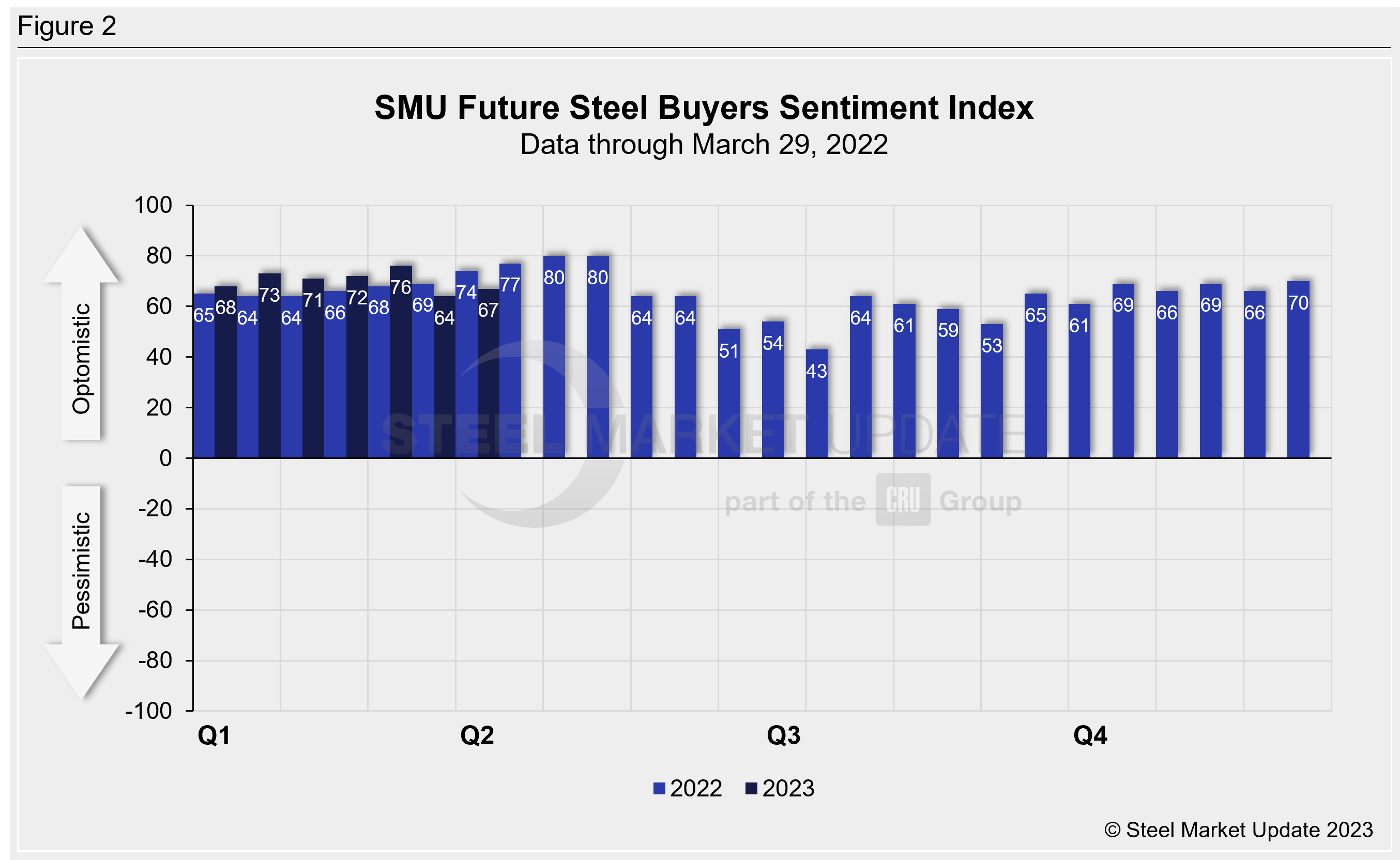 Measured as a three-month moving average, the Current Sentiment 3MMA increased to to +75.83, up two points from two weeks ago. (Figure 3).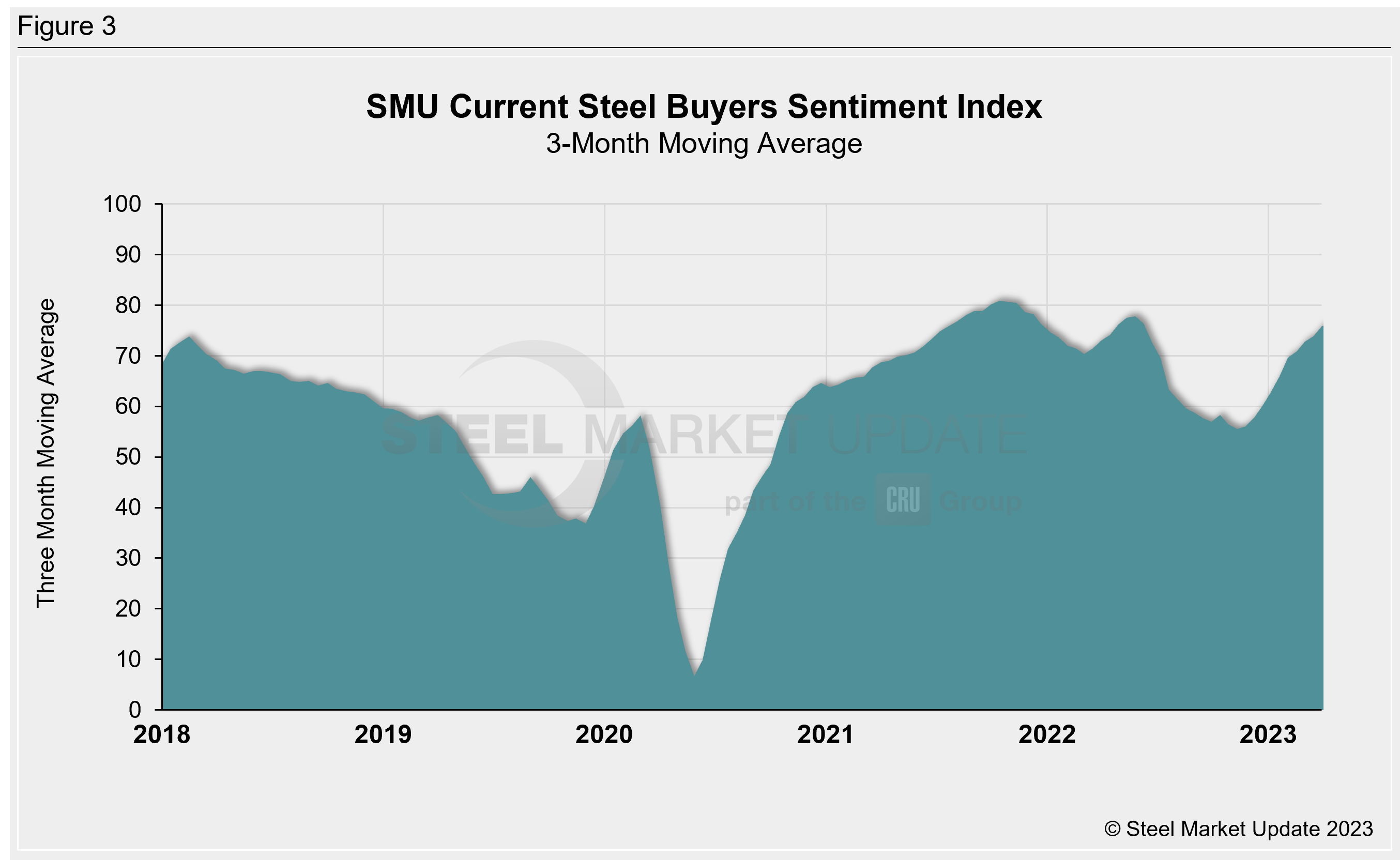 The Future Sentiment 3MMA was +70.50, falling marginally from +70.67 at the previous check. (Figure 4).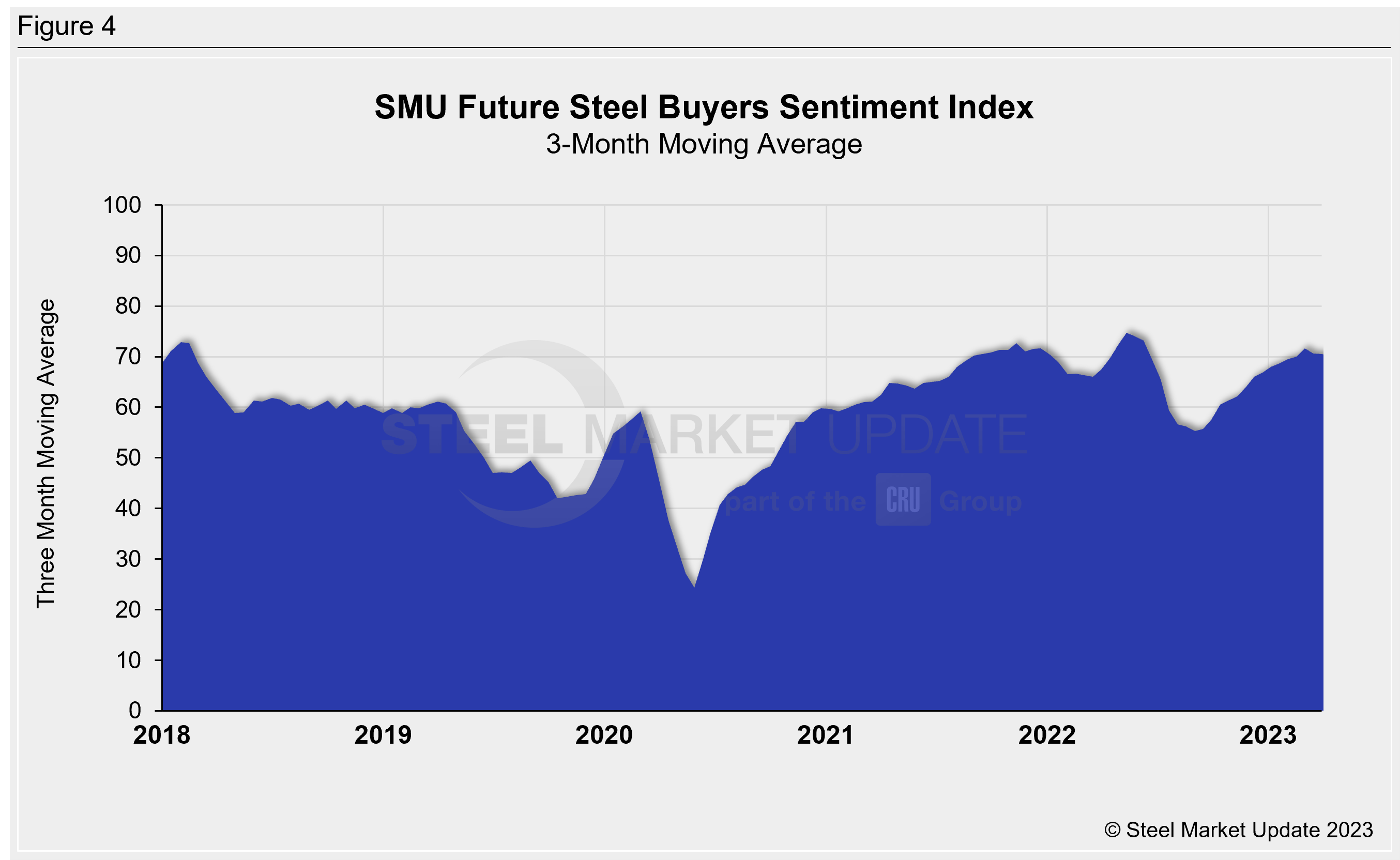 What SMU Survey Respondents Had to Say:
"Overall demand is just OK. But many are hesitant to make any speculation or larger future buys."
"Good demand, just not great demand."
"We are definitely starting to live hand-to-mouth on our inventory. No one will want to get stuck with toxic inventory once this thing turns."
"I am always optimistic, yet all indexes point to a softer second half. But this economy seems resilient based on a strong labor market."
"I don't see how new home construction gets stronger given the banking and interest rate environment."
"I think plate prices will peak and hold for a bit. Demand is solid right now, and customers are not seeing any signs of a slowdown yet."
"Orders remain good."
About the SMU Steel Buyers Sentiment Index
The SMU Steel Buyers Sentiment Index measures the attitude of buyers and sellers of flat-rolled steel products in North America. It is a proprietary product developed by Steel Market Update for the North American steel industry. Tracking steel buyers' sentiment is helpful in predicting their future behavior.
Positive readings run from +10 to +100. A positive reading means the meter on the right-hand side of our home page will fall in the green area indicating optimistic sentiment. Negative readings run from -10 to -100. They result in the meter on our homepage trending into the red, indicating pessimistic sentiment. A reading of "0" (+/- 10) indicates a neutral sentiment (or slightly optimistic or pessimistic), which is most likely an indicator of a shift occurring in the marketplace. Sentiment is measured via SMU surveys that are conducted twice per month.
We send invitations to participate in our survey to hundreds of North American companies. Approximately 45% of respondents are service centers/distributors, 30% are manufacturers, and the remainder are steel mills, trading companies, or toll processors involved in the steel business.
Click here to view an interactive graphic of the SMU Current Steel Buyers Sentiment Index and of the SMU Future Steel Buyers Sentiment Index.
By Ethan Bernard, ethan@steelmarketupdate.com
Latest in SMU Data and Models