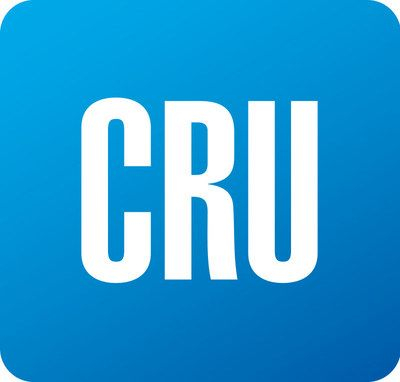 CRU: Metallics Prices Succumb to Weakening Demand
Written by Puneet Paliwal
May 11, 2023
---
The CRU metallics price indicator (CRUmpi) for May fell by 6.6% month over month (m/m) to 331.0, registering its sharpest m/m decline since July 2022. While Turkish demand for metallics has stayed underwhelming due to lower-than-expected reconstruction works, steelmakers elsewhere have adopted a wait-and-see approach until steel prices stabilize.
Sharp reductions in steel prices were observed globally over the past month – whether for longs or for flats – as end-users curbed buying due to weak end-use demand conditions. Meanwhile, cost support to steel prices has also waned, with sharp declines in iron ore and coking coal prices recently. Steel supply has also loosened significantly, so much so that several steelmakers are planning to reduce output. Consequently, metallics bid prices have fallen – more so for scrap than pig iron – forcing suppliers to cut offer prices to support sales.

Metallics prices have fallen across almost all major geographies for broadly the same reason: a subdued steel market. Finished steel prices in all key economies have fallen sharply during April and into May. This is because steel production increased while demand from end-users in construction and manufacturing sectors has remained weak as it lacks support from the economic environment. Moreover, interest rates have stayed elevated, credit availability is tight, while concerns remain over the health of the financial sector. These factors have increased the level of caution, not only among steel buyers but also producers, who are now contemplating reductions in near-term steel output to avoid further price falls. This is evident from the fact that scrap-buying programs have softened across the US and Europe in May, forcing suppliers to lower their price offers as export outlets were also quite muted.
In the US market, scrap supply has loosened significantly over the past month because of weak buying locally (including even order cancellations in late April) as well as in the export market, while scrap supply increased seasonally. Local buying has weakened as some mills in the Midwest are conducting maintenance outages. Meanwhile, export sales to Turkey are affected by the halt in fresh purchases by buyers due to uncertainty around the upcoming national elections and the fate of earthquake reconstruction efforts. Pig iron prices were better supported than those of scrap in the US as supplies from Ukraine and Brazil remain constrained, although they are gradually improving.
Scrap prices in the European Union are closely correlated with those in Turkey and domestic finished longs prices, which have all been on a consistent decline. Scrap supply in the region is largely the same as last month, indicating that weakening demand was the key influence on the price fall observed this month.
In Asia, Chinese scrap prices have fallen to their lowest level since Nov. 22 and, unlike in Europe and the US, the decreases in scrap prices have outpaced the fall in hot metal cost. Negative steelmaking margins led mills to lower their capacity utilization. In early May, EAF capacity utilization in China dropped by 14% m/m, lowering scrap consumption, which was further exacerbated by a rise in pig iron intake.
Scrap prices in the rest of Asia have weakened below Turkish benchmark prices as supply has loosened with seasonal improvement in local generation as well as more offers being made from western suppliers, who are diverting material away from the muted Turkish market.  
A notable exception to global metallics price declines was the Brazilian market, where prices of scrap and pig iron have remained stable m/m.
For scrap, thin dealer margins and low scrap generation are discouraging further price declines, even as steel prices fall. Meanwhile, pig iron suppliers are unwilling to lower export prices due to elevated input costs, particularly that of charcoal, and are patiently awaiting scrap prices to settle in the US.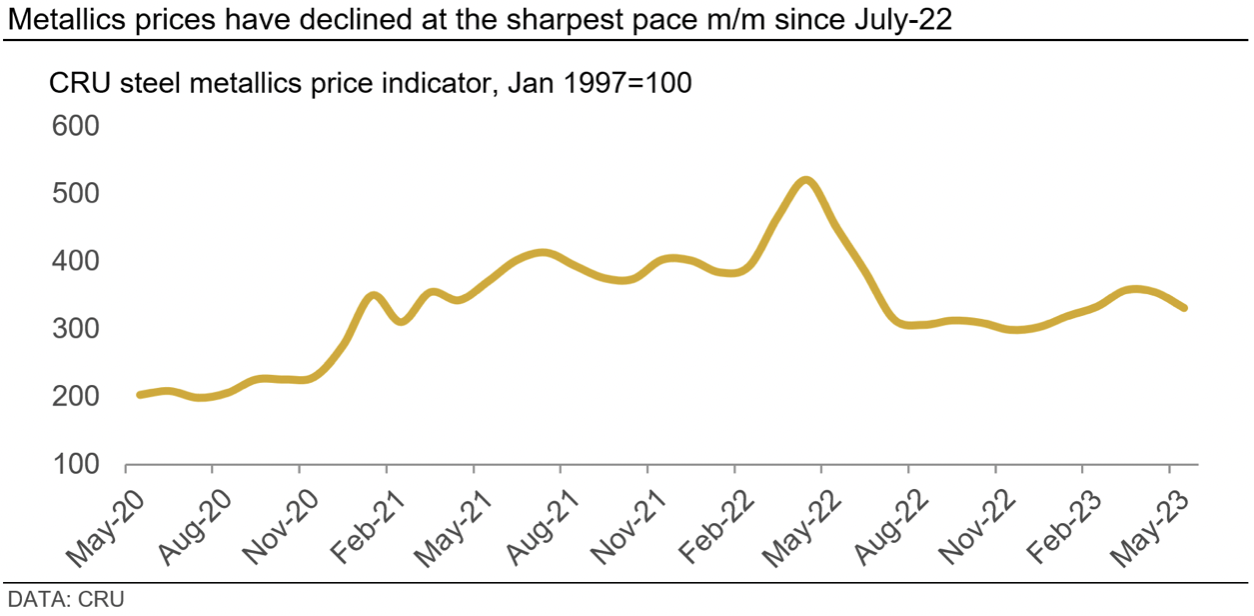 By Puneet Paliwal, puneet.paliwal@crugroup.com