Steel Mills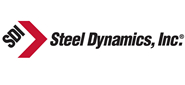 SDI Posts Narrower Q2 Profit, Says Demand 'Remains Solid'
Written by Michael Cowden
July 19, 2023
---
Steel Dynamics Inc. (SDI) posted lower year-over-year second quarter profits but said demand "remains solid" across the automotive, construction, industrial, and energy sectors.
The Fort Wayne, Ind.-based steelmaker also predicted that steel prices might find support thanks to what it described as low customer inventories.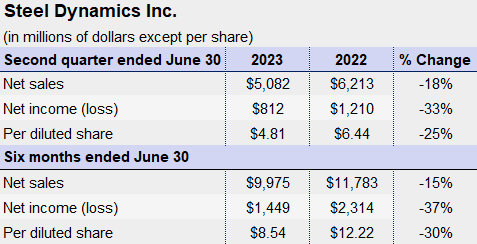 "We remain confident that market conditions are in place for domestic steel consumption to be solid," company co-founder, chairman and CEO Mark Millet said in statement released with earnings data on Wednesday, July 19. "Order entry activity continues to be strong across all of our businesses."
Financials
All told, SDI recorded Q2'23 net income of $812 million, down 33% from $1.21 billion in Q2'22 on revenue that fell 18% to $5.08 billion.
Average steel sales prices were $1,257 per ton ($62.85 per cwt) in Q2'23, down 18.3% from average sales prices of $1,539 per ton in Q2'22.
Total shipments, meanwhile, were 3.21 million tons in Q2'23, little changed from 3.11 million tons in the year-ago quarter. The result was better on the flat-rolled side, where SDI's sheet mills in Butler, Ind.; Columbus, Miss.; and Sinton, Texas, shipped 1.85 million tons in Q2'23, up 9.5% from 1.69 million tons in Q2'22.
Operations
SDI did not provide any additional detail on an unplanned outage at its sheet mill in Sinton. The company said it expected the Texas mill to be operating at 80% capacity utilization by the end of 2023. Recall that Sinton was designed to have capacity of 3 million tons per year.
On the aluminum side, SDI said it was "quickly progressing" with a flat-rolled aluminum mill in Columbus, where it also operates a steel sheet mill.
SDI broke ground on that $2.5-billion project in March. The $1.9-billion rolling mill is expected to start up in mid-2025 after two slab casting facilities – one each in Mexico and the US – start up in late 2024 and early 2025, respectively.
Outlook
SDI predicted that North American steel consumption and steel prices would improve in future years thanks to an anticipated increase in demand for steel produced with fewer carbon emissions. The company said that development would be coupled with lower imports.
Recall that the US and the EU are attempting to negotiate a common framework on carbon emissions, something that could create preferential treatment for imports from countries and regions also seen as having lower pollution-emitting steel industries.
SDI in addition sees tailwinds from the "onshoring" of manufacturing as well as from public funding related to infrastructure spending, the Inflation Reduction Act (IRA), and various Department of Energy programs.
By Michael Cowden, michael@steelmarketupdate.com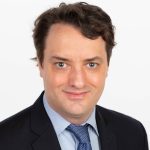 Latest in Steel Mills