OEMs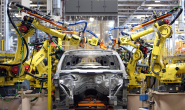 Unifor Voices Support for UAW as Its Own Strike Deadline Looms
Written by Ethan Bernard
September 15, 2023
---
Unifor, the union which represents Canada's auto workers, has written a letter in solidarity with the United Auto Workers (UAW) strike as its own labor contract deadline nears.
"We stand in solidarity with UAW members as you exercise your fundamental right to strike," Lana Payne, Unifor national president, wrote in a letter on Friday.
Recall that Unifor's contract with the Detroit 3 automakers General Motors, Ford, and Stellantis expires on Monday, Sept. 18 at 11:59 p.m. The UAW began a targeted "stand up" strike against all three Detroit automakers when it did not reach an agreement by 11:59 p.m. on Thursday.
"Our unions have a long and historic relationship as the two largest unions representing autoworkers in North America," Payne continued. "Just like you, we know what it means to have some of the world's most powerful corporations as our employer."
Unifor selected Ford as the target automaker in its labor negotiations. The union has so far rejected two contract offers from Ford ahead of Monday's deadline, according to a report from the CBC.
Latest in OEMs