Features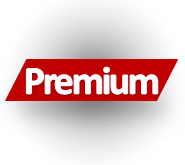 North American Auto Assemblies Surge in August
Written by David Schollaert
September 20, 2023
---
North American auto assemblies saw their best total year to date in August, and the best mark in nearly five years, according to LMC Automotive data. The result was driven by a 32.8% jump in total assemblies vs. July's output.
The month-on-month assembly output surge was impacted by seasonal factors. The typically slower summer ended with a strong recovery from lower monthly outputs in June and July. The production recovery so far has allowed the days' supply of light vehicles to rise to 38 last month. This is slightly higher than July but still about 40% below the pre-pandemic average.
Rising inventory levels should continue to restore balance to the market and boost vehicle availability, but the UAW strike action against Detroit's Big Three – Ford, General Motors, and Stellantis may create some near-term turbulence.     
North American vehicle production, including personal and commercial vehicles, totaled 1.5 million units in August, up from 1.13 million units in July, and was 7.3% ahead of the 1.1.39 million produced one year ago.
Below in Figure 1 is North American light-vehicle production since 2013 on a rolling 12-month basis with a YoY growth rate. Also included is the average monthly production, which includes seasonality since 2013.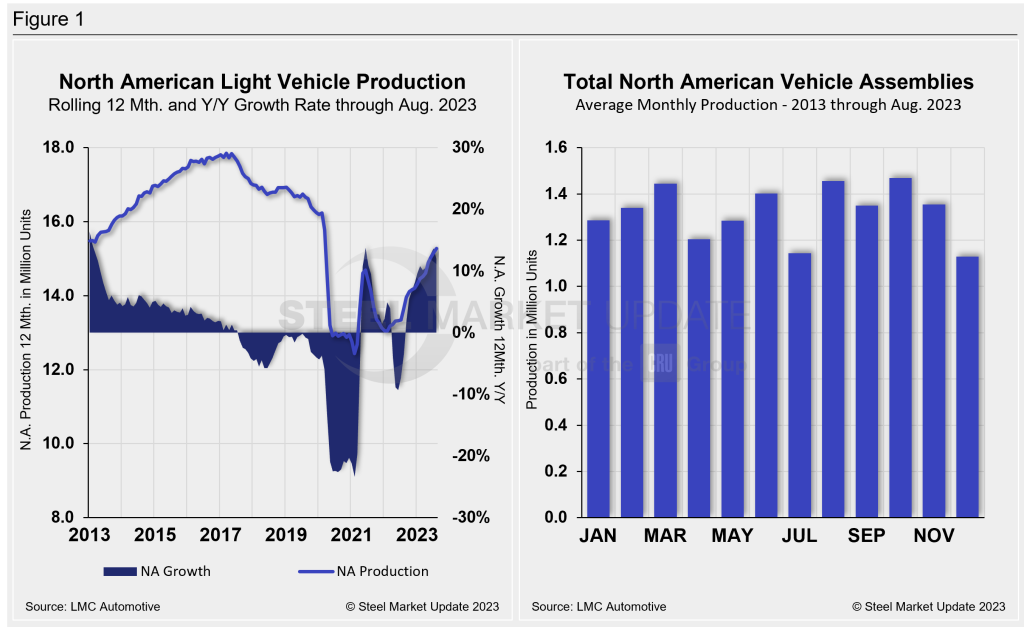 A short-term snapshot of assembly by nation and vehicle type is shown in the table below. It breaks down total North American personal and commercial vehicle production into US, Canadian, and Mexican components. It also includes the three- and 12-month growth rates for each and their momentum change.
For the three months and 12 months through August, the growth rate for total personal and commercial vehicle assemblies in the USMCA region is up by double-digits. The momentum change, however, is well behind.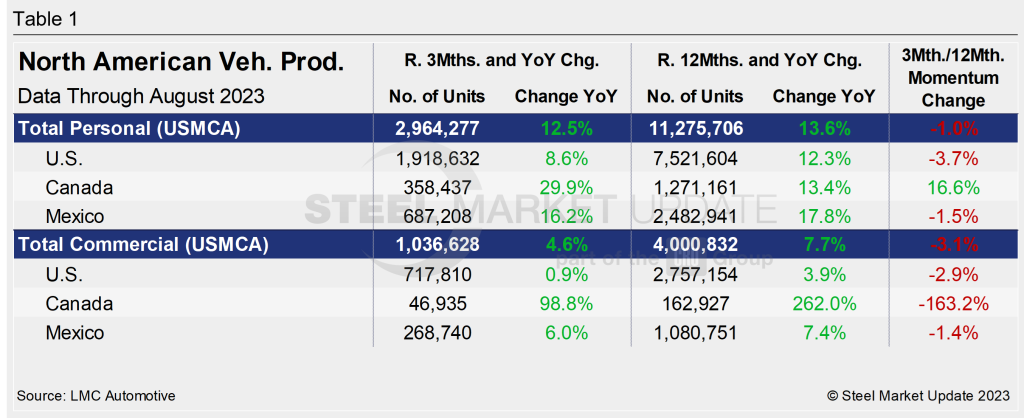 Personal Vehicle Production
The longer-term picture of personal vehicle production across North America is shown below. The charts in Figure 2 show the total personal vehicle production for North America and the total for the US, Canada, and Mexico.
In terms of personal vehicle production, the region saw a 35% boost month over month (MoM) in August, after declining by 17% the month prior. The result was also a 10.3% boost vs. the period one year ago.
The US saw the largest increase in both units produced and percentage gain in August vs. July, up 235,960 units (+45.3%). It was followed by Mexico, up 31,542 units (+14.8%), while Canada produced 24,513 more units (+24.5%) MoM.
Production share across the region was largely unchanged. The US saw personal vehicle production share of the North American market edge up marginally to 64.7%. Both Mexico and Canada saw its share slip to 23.2% and 12.1%, respectively.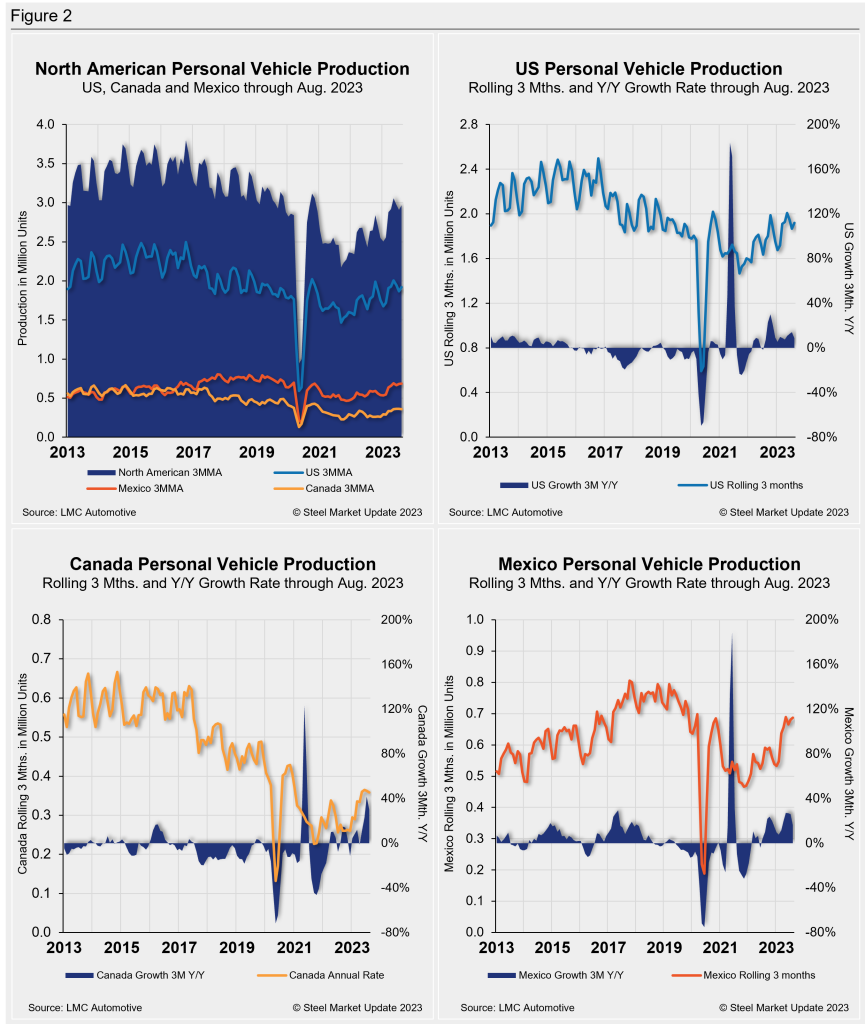 Commercial Vehicle Production
Total commercial vehicle production for North America and the total for each nation within the region are shown in the first chart in Figure 3 on a rolling three-month basis. Commercial vehicle production in the US and Mexico and their YoY growth rates, as well as the production share for each nation in North America, are also shown.
North American commercial vehicle production was up 26.4% in August with a total of 374,694 units produced during the month, an increase of 78,308 units MoM. The gain was driven by the US, which saw a 27.8% boost in commercial vehicle assemblies in August, producing 56,934 more vehicles MoM.
Canada produced 18,380 light commercial vehicles in August, a 43.7% increase from July's 12,789 total units. August marked Canada's 22nd straight month of commercial vehicle assemblies after ceasing production for nearly two years from Jan. 2020 through Oct. 2021.
Mexico also reported a double-digit production growth in August vs. July, up 20% and producing 15,783 more vehicles over the same period.
The overall increase put the commercial production growth rate at 4.6% for the region last month, down from 9% in July.
The market share across the region was largely unchanged. The US was up four percentage points, with a total share of 69.2%, followed by Mexico with a 26.2% share, and Canada with at 4.5% share in May.
Presently, Mexico exports just under 80% of its light-vehicle production, with the US and Canada the highest-volume destinations.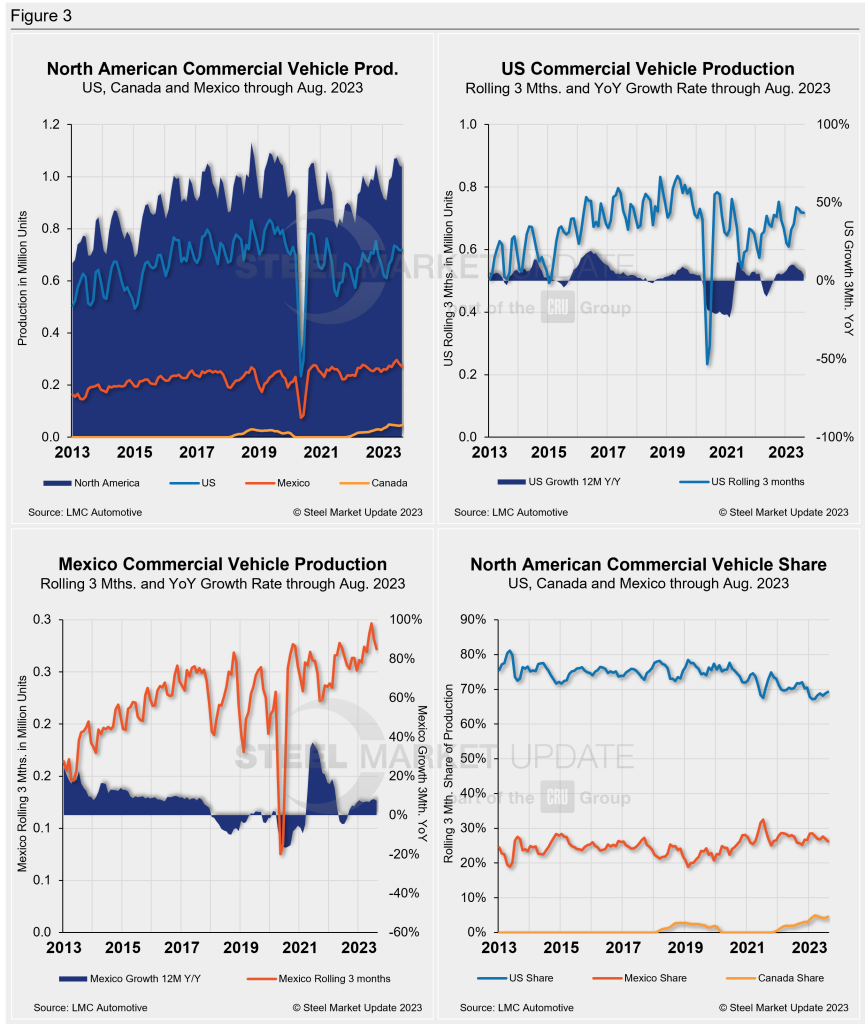 Editor's Note: This report is based on data from LMC Automotive for automotive assemblies in the US, Canada, and Mexico. The breakdown of assemblies is "Personal" (cars for personal use) and "Commercial" (light vehicles less than 6.0 metric tons gross vehicle weight rating; heavy trucks and buses are not included).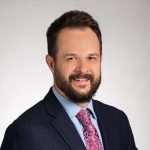 Latest in Features