Steel Products
NY Business Conditions Fall in January
Written by Sandy Williams
January 16, 2013
---
Written by: Sandy Williams
Conditions for New York manufacturers continue to decline at a modest pace according to the Empire State Manufacturing Survey for January 2013.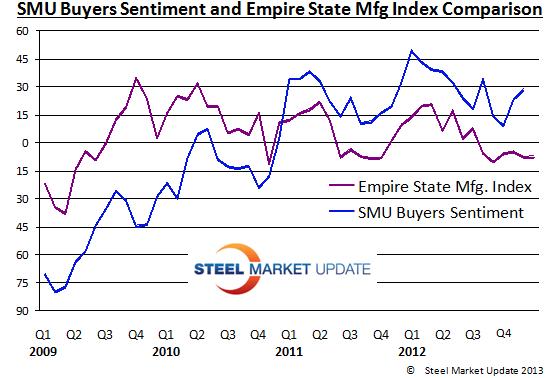 The general business conditions index declined for the sixth consecutive month to -7.8 in January. New orders fell four points to -7.2 and the shipments index declined 15 points to -3.1. The prices paid index rose six points to 22.6 and the prices received index rose 10 points to 10.8. Low sales growth kept the index for number of employees at -9.68 with most respondents saying numbers were the same as last month or decreasing.
The outlook for the next six months rose 4 points to 22.4 with 41 percent of respondents expecting an improvement in conditions and 18 percent expecting conditions to worsen. In general, indexes for the next six months were positive and rose slightly, however, were below those seen at this time in 2012.
The Empire State Manufacturing Survey is conducted monthly by the Federal Reserve Bank of New York. A pool of approximately 200 manufacturing executives, typically the president or CEO from a variety of industries in New York State, respond to a questionnaire about operating conditions and report the change in a variety of indicators from the previous month and the likely direction of those same indicators six months ahead. About 100 responses are received with the survey's main index on general business conditions determined by a distinct question, not a weighted average of other indicators. The data is seasonally adjusted.

Latest in Steel Products