Steel Products
#1 Busheling, Iron Ore & Billet Futures
Written by Bradley Clark
February 1, 2013
---
Written by: Brad Clark, Director of Steel Trading, Kataman Metals
U.S. Midwest #1 Busheling Ferrous Scrap (AMM) Uneventful Before Next Month Pricing Begins
The physical busheling market has been characteristically quiet this week as both dealers and mills jockey for position ahead of next week when price negotiations will begin in full swing.  All signs so far point to Midwest busheling trading flat to down $20 as plenty of supply remains around and mill order books continue to be weak despite recent price hikes. 
The futures market has experienced decent volumes this week with a strip of Feb-Aug trading at $395 for 500 tons per month and February trading 100 tons at $390. This seems to be a fairly aggressive number as the underlying physical market looks to continue to soften through q1. But with the volatile scrap market one month's softening market can be next month's roofer.
 
CME Busheling Closing Prices as of 1/30/2013 close:
Jan – $390
Q1 – $390
Q2 – $385
Cal 13 – $375
OPEN INTEREST: 87 lots (1 lot = 20 gross tons)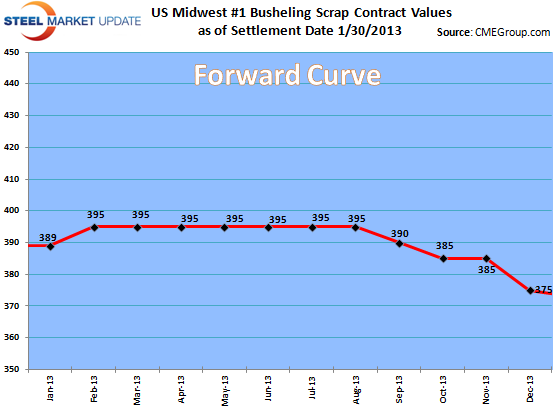 CME Black Sea Billet / TSI Turkish Scrap Slide on Abundant Supply and Weakening Demand
Raw materials markets softened this week as demand from Turkey has been less than stellar. Coupled with the mild weather in the US leaving supply ample, prices began to move lower. Spot prices tend to be transacting around $405 / metric ton with the futures market pricing in a continued decrease as q1 becomes q2. Volumes in the futures market have been extremely limited with no reported trades this past week. The black sea billet market has been suffering from the same sense of lethargy with prices sliding amidst a lack of activity.
Forward curve TSI Turkish Scrap as of 1/30/2103 close:
Jan – $405
Q1 – $395
Q2 – $380
Cal 13 – $385
Forward curve CME Black Sea Billet as of 1/30/2013 close:
Jan – $531
Q1 – $530
Cal 13 – $530
TSI Iron Ore Prices Resume  Rally, Extend Gains
Iron ore prices pushed further this week with the Chinese appetite for ore seemingly unquenched ahead of Chinese New Year. Spot prices reached a two week high today printing at $152.50. Volumes remain very robust with anywhere between 500-1 million tons of futures trading daily over the past few months.
The futures market has registered gains alongside the physical market as the backwardation (when forward prices are below spot prices) continues to be pulled up as time progresses and physical tenders transact higher.  While many observers forecasted 2013 to average around $100 per ton, the futures market is now pricing in first half of the year to be above $140.  While it does feel that prices at these levels are looking a bit toppy anyone betting against iron ore the past 3 months has had a rough time of it.
TSI Iron ore forward curve as of 1/31/2013:
Jan – $150.49
Q1 – $149.50
Q2 – $140
Cal 13 – $128
Latest in Steel Products