Steel Products
JPMorgan Global PMI 51.5 Rises for 3rd Month
Written by Sandy Williams
February 6, 2013
---
Written by: Sandy Williams
The JPMorgan Global Manufacturing PMI was at a ten month high in January—rising three months in a row and posting at 51.5.
Growth was led by the U.S. and Mexico, with China also showing its highest output in two years. Emerging markets did well but Europe and Japan dominated the lower range of PMI scores. The downturn deepened in France but Japan and Italy contraction slowed, indicating a move toward stabilization.
New orders rose globally for the first time in nine months but did not keep pace with the decline in backlogs of work. International trade volumes fell at the slowest pace in nine month with new export business picking up in the U.S., China, India, Brazil, Taiwan, South Korea, the Netherlands, Italy and Spain.
"The global manufacturing sector has made a bright start to 2013, with the PMI indicating that output growth recovered to a ten-month high following the soft patch seen during much of last year," said David Hensley, Director of Global Economics Coordination at JPMorgan. "The continued upward trend in PMI orders suggests the PMI, and global production growth, may strengthen further in the next few months."


The Eurozone registered a Manufacturing PMI of 47.9 showing an ease in the downturn of the manufacturing sector as decline in production and new orders both slowed. Germany showed the strongest gain rising to 49.8 from 46.0 in December. Output rose in Germany, Netherlands and Ireland. France continued to sink deeper into recession. An increase in exports is helping to revive the depressed manufacturing sector, especially in Spain and Italy. The rise in PMI signals that the industrial sector is closer to stabilizing after contracting in 2012.

"While the industrial sector looks likely to have acted as a drag on the eurozone economy in the final quarter of last year, deepening the double-dip downturn, the PMI provides hope that the first quarter could mark the start of a turnaround. Providing there are no further set-backs to the region's debt crisis, these data add to the expectation that the eurozone is on course to return to growth by mid-2013," said Chris Williamson, Chief Economist at Markit.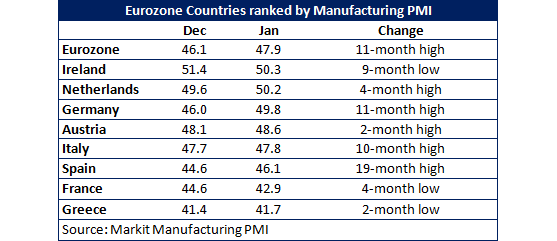 The HSBC China Manufacturing PMI rose to 52.3 in January, up from 51.5 in December and the third consecutive increase. New orders and exports both increased in January. Exports were attributed to increased demand from clients in the U.S. and Europe. Employment rose slightly in January. Input costs rose for the fourth month in a row and was linked to higher raw material costs.
"A higher reading of January final manufacturing PMI implies that China's manufacturing activity is gaining further steam on the back of improving domestic conditions," said Hongbin Qu, Chief Economist, China & Co-Head of Asian Economic Research at HSBC. "We see increasing signals of a sustained growth recovery in the coming months: the steady investment growth led by infrastructure projects, the improving labour market conditions boosting consumer spending, and the ongoing re-stocking process to lift production growth."
 
In Japan, the Markit/JMMA Japan Manufacturing PMI rose to 47.7 in January from 45.0 in December but remained below the 50.0 no-change mark for the eighth successive month. Survey respondents reported market demand down at home and abroad. New orders fell sharply for both domestic and foreign markets. Production declined for the eight straight month. Input costs rose in tandem with depreciation of the yen.
"Operating conditions for Japan's manufacturing sector remained challenging at the start of 2013, with a number of key barometers measuring the sector's health stuck in contraction territory. Although rates of decline generally slowed, the latest data remain consistent with another fall in output on official measures," said Paul Smith, Senior Economist at Markit and author of the report.
South Korea saw little change in manufacturing conditions in January. The PMI registered 49.9 in January, down just 0.2 points from December. Output and new orders both fell for the month. There was a modest rise in input costs but output charges declined for the fifteenth successive month. Buying activity picked up for the first time since May but cautious manufacturers are keeping inventories lean and using "just-in-time" production practices. The domestic economy continues to be weak but is expected to be strengthened by export demand recovering in the second half of 2013.
Vietnam saw a modest rise in the PMI score from 49.3 to 50.1 in January. Manufacturing production increased as new orders picked up in the domestic market. Exports continued to decrease and manufacturers reported lower levels of new work from the Eurozone and China. Average input prices rose and higher purchase prices were attributed to increased costs of raw materials and transportation. The economy is expected to grow in 2013 but remain below normal levels. Inflation is a concern.
On-going power supply problems in India have slowed production growth again in January. The HSBC PMI posted 53.2 in January, down from 54.7 in December. Existing inventory was used to satisfy demand which should help production in the coming months as stocks are replenished.
Russia began the year with a strong expansion in production output in January. The PMI rose from December's 15-month low of 50.0 to 52.0 in January. New orders rose at the fastest pace since March 2011 mostly due to strong growth in domestic markets. Backlogs increased as demand picked up. Inflationary pressures remained weak with average input prices rising at the second-slowest rate in four years. Prices charged increased modestly for the month. Seasonal factors and a subdued production in December make January look artificially optimistic according to Alexander Morozov, Chief Economist (Russia and CIS).
"Therefore, the improved performance in January against the low December base does not tell much about the sustainability of this improvement," commented Morozov. "That said, we must be observing a stabilization of growth momentum in the Russian manufacturing, at least, and may expect some improvement going forward. In the end, this would prompt growth stabilization of the Russian economy as a whole."
Brazil output growth rose at the fastest rate in 23 months. The Brazil PMI posted at 53.2 in January, up from 51.1 in December. New orders and demand were up for the month. Exports rose as well, but only slightly. Input prices increased again in January continuing a trend that began in September 2009. The overall rate of inflation rose only slightly from December. Employment levels expanded for the first time in ten months. HSBC economist Andre Loes expressed concern over potential electricity rationing that may slow Brazil production.
Mexico manufacturing conditions remained strong in January although slipping from December's record high of 57.1 to 55.0. New orders picked up with higher client demand and new product launches. Export orders fell for the first time since November 2011. Buyers bought larger quantities of inputs in January for both replenishment of stocks and for immediate use in production.
Canada had only slight growth of output and new orders in January. The RBC PMI showed a bland improvement of 0.1 points in January to 50.5. Job creation was at the slowest rate in 12 months.
"The Canadian manufacturing sector experienced a relatively lacklustre start to the New Year amid ongoing global economic uncertainty," said Craig Wright, senior vice-president and chief economist, RBC. "As some of the more extreme downside risk scenarios look less likely now, we should see confidence in the global economy improve, paving the way for a stronger recovery in Canadian manufacturing."

Latest in Steel Products