Steel Products
Ferrous Scrap, Iron Ore and Billet Futures
Written by Bradley Clark
February 22, 2013
---
Written by: Bradley Clark, Director of Steel Trading, Kataman Metals
U.S. Midwest #1 Busheling Ferrous Scrap (AMM) Firm on Weather Concerns
As the month has progressed sentiment is starting to fall solidify around the idea that busheling prices may rebound $10-20 in March. Worsening weather conditions in the Midwest and dealers trying to recoup last month's declines are leading the way for this small uptick in prices.
The futures market has experienced a slightly more positive sentiment as well with bids willing to pay about $5 / ton better than last week. Volumes have been negligible with no trading reported. The forward curve remains flat throughout the end of the year, more an indication of lack of liquidity than true market sentiment.
 
CME Busheling Closing Prices as of 2/20/2013 close:
March – $393
April – $393
Q2 – $392
Cal 13 – $391

OPEN INTEREST: 240 lots (1 lot = 20 gross tons)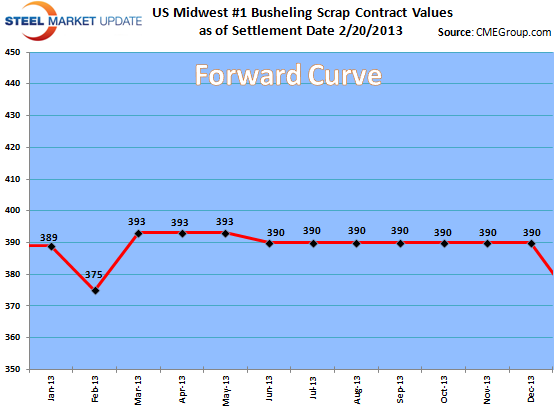 CME Black Sea Billet / TSI Turkish Scrap Prices Tick up Slightly on Low Volumes
Limited amount to discuss in these raw material markets as a mixed cargo was sold into Turkey, up $15 / metric ton from last month. Many in the market await confirmation of this uptick with follow on buying as the finished steel markets in Europe remain under pressure. The futures markets continue to be dormant as traders remain on the sidelines of both these nascent swaps markets.
Forward curve TSI Turkish Scrap as of 2/20/2103 close:
Feb $390
March – $400
Q2 – $395
Cal 13 – $385
Forward curve CME Black Sea Billet as of 2/20/2013 close:
Feb – $525
March – $538
Q2 – $533
Cal 13 – $530
TSI Iron Ore Prices Plummet as Rebar Prices Collapse
The return of the Chinese from their Lunar New Year celebration has led to a strong pull back in iron ore prices. Shanghai rebar futures fell dramatically the past two days as indications the government in Beijing will implement measures to curb the skyrocketing real estate market. While spot iron ore is trading around $155 / metric ton, historically very high levels, the forward curve suggests prices will retreat to more 'comfortable' trading range of $110-130.
Volumes have been exceedingly strong during this recent down turn with over 20 million tons of rebar futures trading today and nearly 1 million tons of iron ore trading per day on the Singapore exchange (SGX).
TSI Iron ore forward curve as of 2/21/2013:
Feb – $155
March – $148
Q2 – $135
Q3 – $128
Cal 13 – $121
Latest in Steel Products