Steel Products
January Sheet Steel Shipments
Written by Peter Wright
March 13, 2013
---
Written by: Peter Wright
Sheet steel shipments in January were 4,343,000 tons, an increase of 322,000 tons over December's volume. These figures are shipments to domestic locations plus exports based on the AISI AIS10 and Commerce Department trade reports.
The following table breaks the total down into individual products and measures the growth and contraction over the last two years. The rolling three month change compares the shipping volume in November through January with the October through December period. A rolling three month change is used to smooth out monthly variations which are frequently extreme for commercial reasons.
Total sheet and strip shipments on this basis were up by 3.5 percent in the latest three month period. All individual products had similar performance on this basis except electro galvanized which was almost unchanged.
The change in the 12 and 24 months columns compares the November through January shipments with the same period one and two years ago. Total shipments were down 3.7 percent from one year ago but up by 14.3 percent from two years ago. On a one year comparison, growths across products were similar though, in this case, negative. Cold rolled was the only exception. There were wide variations across products on a 24 month basis. In the three months through January, all other metallic coated products were up by 46.7 percent compared to two years ago while electrolytic galvanized was down by 1.7 percent.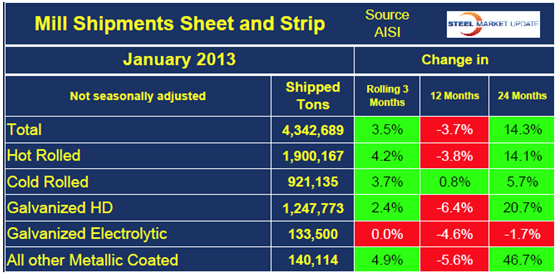 This is another "premium product" under development by Steel Market Update as we work to expand our view of the market and expand our ability to analyze past performance and forecast future steel needs.

Latest in Steel Products