Steel Products
SMU Steel Buyers Sentiment Index 3MMA Trending Lower
Written by John Packard
March 23, 2013
---
Based on the results from the Steel Market Update (SMU) steel survey which began on Monday and concluded earlier today, the SMU Steel Buyers Sentiment Index remained mildly optimistic and was measured at +17. This is a 2 point improvement over the +15 reported at the beginning of March. The +17 recorded for the middle of March is 22 points less than the +39 recorded one year ago. The +17 is also 10 points below the highest reading so far this year which was recorded during the middle of January and early February 2013. Any reading above +10 is considered to be within the optimistic range of our Index.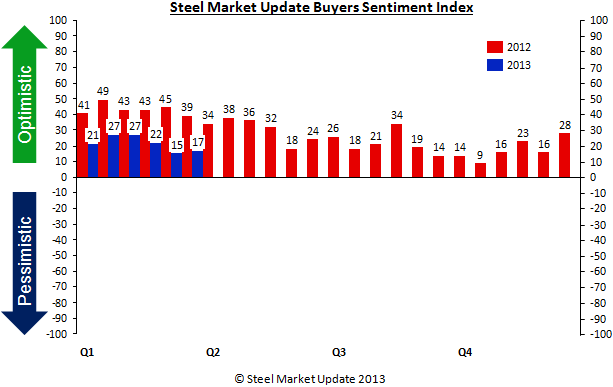 Our three-month moving average (3MMA) is +21.5 and is now trending lower. During the middle of February our 3MMA was reported at +23.5 and was trending higher at that point in time.
Those actively involved in the buying or selling of flat rolled steel products expressed their collective opinion that business is "fair" at this point in time and not as busy as is normal during the month of March. Steel prices have been fairly "flat" over the past few months and our Index has reflected the lack of price movement. Steady prices can be seen as a negative in some steel circles as service centers in particular tend to thrive when prices are fluctuating wildly.
Here are some of the comments left by those completing our survey this week:

There seems to be uneasiness about business in general right now, not real optimistic, yet not totally pessimistic. Based on what you read and hear, there seems to be some contradictions about our prospects. Business should get better, providing we get no surprises. You don't know what to expect, anymore. Manufacturing Company.

Business from actual orders still just fair, however with some warmer weather coming through order quoting activity does seem to be picking up pace. Now to convert them to orders. [Orders] should pick up with spring in next few weeks, anyone's guess come summer. Manufacturing Company.
It is curious that surveys from the ISM and other Purchasing organizations continue to say that business is improving, yet, we don't see significant results of that in the steel marketplace. Toll Processor/Manufacturer.
Most customers giving us steady to slightly increased releases. Service Center.
Weather is making construction sites a challenge. Metal Building Manufacturer.

Getting a little better it appears for the short term! Service Center.
2013 is currently running 2% below 2012. Wholesaler.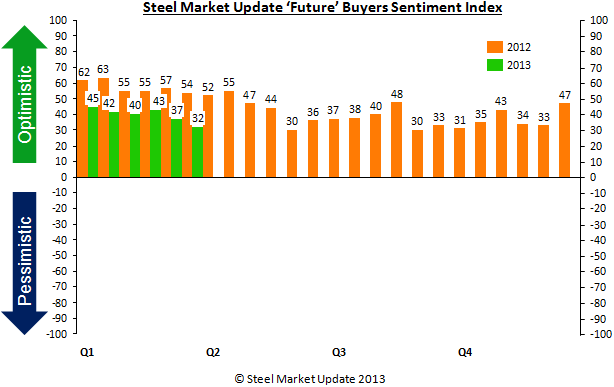 SMU Future Steel Buyers Sentiment Index +32
The SMU Future Steel Buyers Sentiment Index was measured at +32, down 5 points from the beginning of March. Future Sentiment is how those actively involved in the steel industry feel about their company's ability to be successful 3-6 months in the future.
About the SMU Steel Buyers Sentiment Index
SMU Steel Buyers Sentiment Index is a measurement of the current attitude of buyers and sellers of flat rolled steel products in North America regarding how they feel about their company's opportunity for success in today's market. It is a proprietary product developed by Steel Market Update for the North American steel industry.
Positive readings will run from + 10 to + 100 and the arrow will point to the right hand side of the meter located on the Home Page of our website indicating a positive or optimistic sentiment.
Negative readings will run from -10 to -100 and the arrow will point to the left hand side of the meter on our website indicating negative or pessimistic sentiment.
A reading of "0" (+/- 10) indicates a neutral sentiment (or slightly optimistic or pessimistic) which is most likely an indicator of a shift occurring in the marketplace.
Readings are developed through Steel Market Update market surveys which are conducted twice per month. We display the index reading on a meter on the Home Page of our website for all to enjoy.
Currently we send invitations to slightly less than 700 North American companies to participate in our survey. Our normal response rate is approximately 120-170 companies. Of those responding to this week's survey 49 percent were manufacturing companies, 37 percent were service centers/distributors and the balance was made up of steel mills, trading companies and toll processors involved in the steel business.
Steel Market Update does canvass those being invited to participate in order to confirm their active participation in the flat rolled steel business. Our list is updated at least once per month and we are adding new companies on a continuous basis.

Latest in Steel Products