Steel Products
HRC Futures Markets End July with Open Interest of 25,420 Tons
Written by John Packard
August 12, 2013
---
Written by: Andre Marshall, CEO Crunch Risk, LLC
The month of July ended with a decent week in hot rolled coil (HRC) steel futures with 1119 contracts trading or 22,380 net tons. Open interest on the CME at the end of the month was 1,271 contracts or 25,420 tons.
The market saw some hedge buying come in for
the balance of this year during the last week of the month and there was a little activity as well in June 2014/August 2014. Settlements are fairly similar to last week's (week of July 22nd) with September moving up about $5 as it rolled into the 2nd month position. We are starting to see more sellers looking for opportunities in the fourth quarter (Q4), but not quite yet ready to reach to lower bids. We came in at $642 on CRU down $1 per ton as latest round of increases appear to have failed to motivate many to move off the fence. Even with USS Lake Erie Works still out, we are at or above production levels we had when prices were materially lower so it will be interesting to see how next month's orders go. August scrap negotiations may give us a few clues to the next move in the market.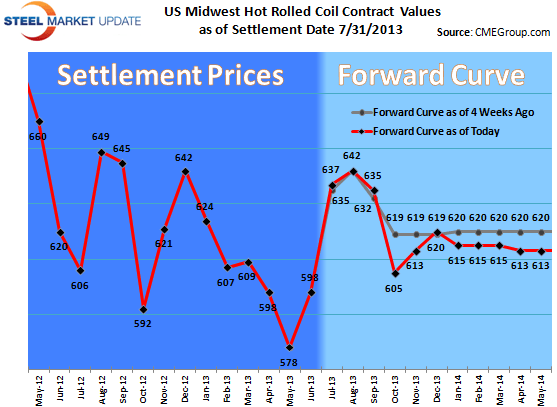 Latest in Steel Products