Steel Products Prices North America
Net Imports/ Exports
Written by Peter Wright
August 12, 2013
---
In three months through May exports of flat products declined as those of long products remained unchanged (see graphic below).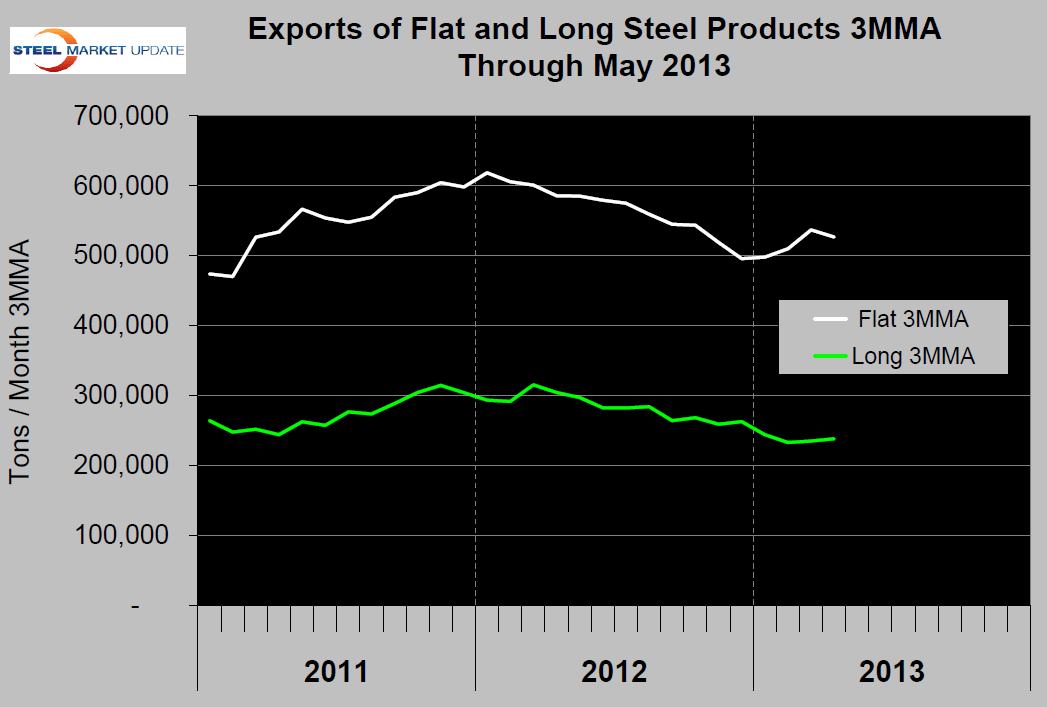 Compared to May last year total exports were up by 311 tons. This result breaks down to flat products down 21,166 tons, longs down 29,114 tons and tubulars up 43,176 tons. In all three cases results were similar to the April y / y result. Within the flat rolled sector, plate was up by 15,670 tons and sheet products down by 36,836 tons. Digging down further into the sheet numbers reveals that hot rolled exports increased by 16,051 tons and cold rolled declined by 35,331 tons. Coated product exports were not much changed, (Table 1).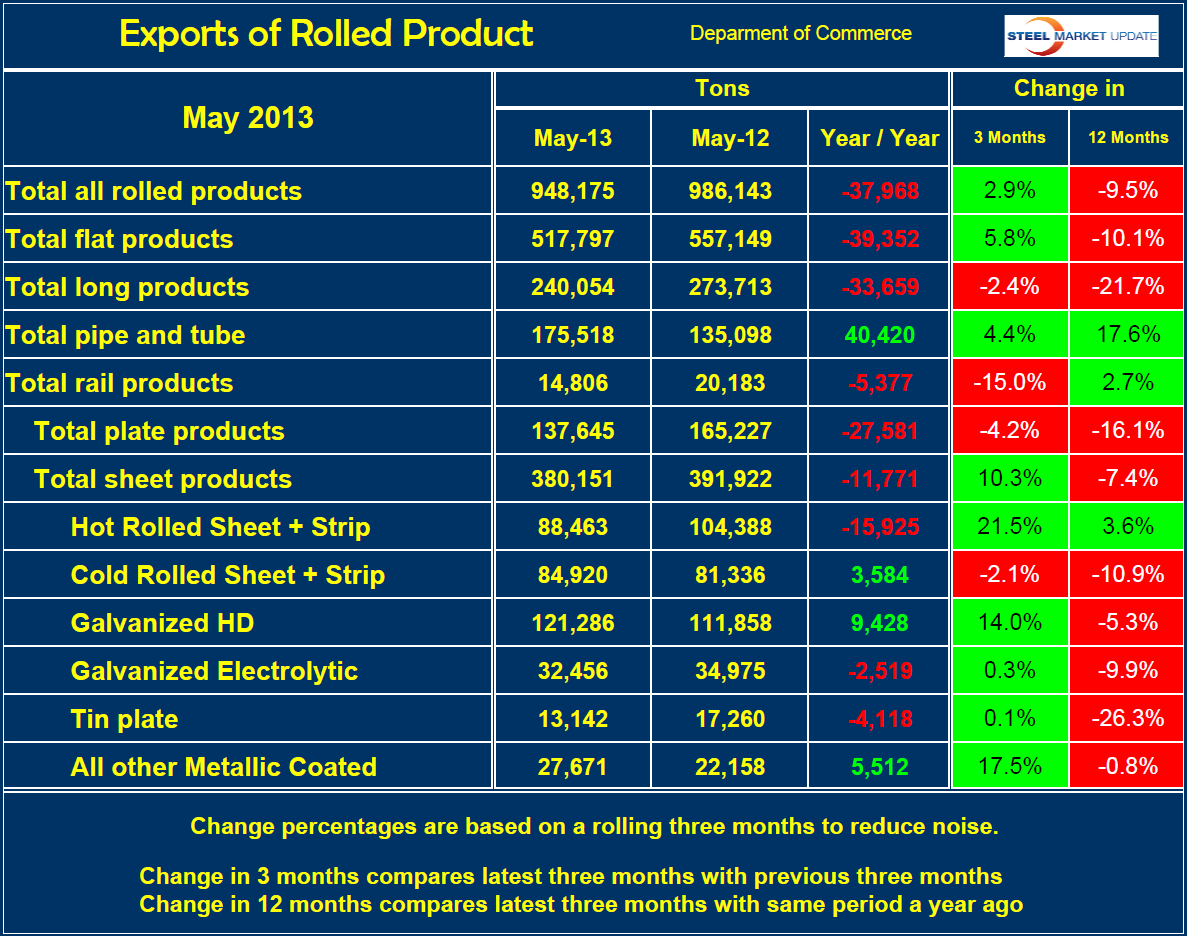 Comparing the last three months, March through May with December through February, total exports were up by 8.6 percent. By product group, flats were up by 7.5 percent, longs by 2.4 percent and tubulars by 17.4 percent. Digging down further into flat rolled to examine the sheet products shows that all sub groups experienced export growth in three months through May. 
Net steel imports YTD through May totaled 4,860,425 tons compared to 4,777,020 tons in YTD through May 2012, a decline of 83,405 tons, (Table 2). On this basis net imports of long products were up by 26.7 percent, of flat products by 27.7 percent, tubulars were down by 16.7 percent and rail down by 3.1 percent. Figures 2 and 3 show imports, exports and net trade for sheet (doesn't include plate) and long products, respectively, for the period January 2008 through May 2013. Sheet products have been drifting down all year but long products are up sharply from zero in October 2011.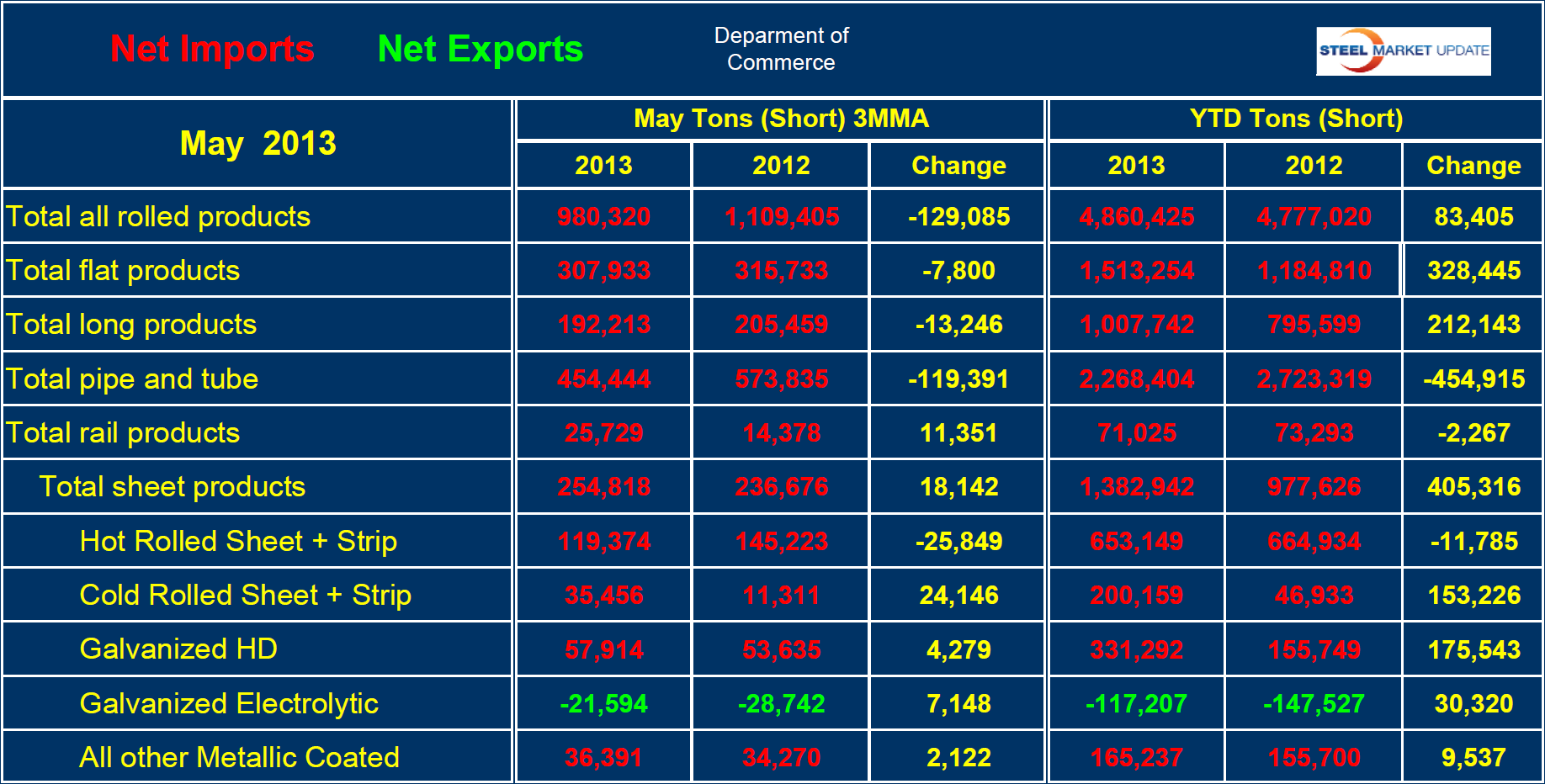 The detail and analysis shown above is what we will be providing on a number of topics to our Premium customers in the new website.

Latest in Steel Products Prices North America