Steel Products
SMU Flat Rolled Indices Continued Their Move Higher During July
Written by John Packard
August 13, 2013
---
Flat rolled prices moved higher from the beginning of July through the end of the month. Steel Market Update recorded price increases ranging from $32.50 per ton to as much as $45.00 per ton. 
In the table below, SMU indices are shown with
their range (from high to low) as well as the average and then the change from the end of June until the end of July. We believe it is more important to be aware of the range and then watch the trend. As you can see in the hot rolled numbers below the largest movement during the month of July was at the lower end of the range as the domestic mills squeezed their customers in order to garnish higher prices during the month.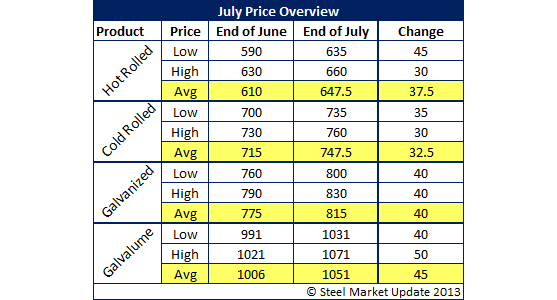 Prices shown are in dollars per ton.  To convert to cwt pricing divide by 20. Prices shown are "base" prices – before extras and FOB domestic mill east of the Rockies.
 
Latest in Steel Products