Steel Products
ABI Continues Upward Trend
Written by Sandy Williams
August 22, 2013
---
The Architecture Billings Index jumped to 52.7 in July from 51.6 in June indicating a growing demand for construction design activity.  The new project inquiry index, an indicator for future demand, surged 4.1 points to 66.7 in July.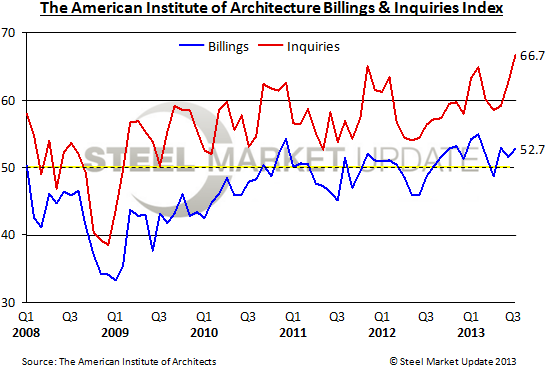 "There continues to be encouraging signs that the design and construction industry continues to improve," said American Institute of Architects Chief Economist, Kermit Baker. "But we also hear a wide mix of business conditions all over the country, ranging from outstanding and booming to slowly improving to flat. In fact, plenty of architecture firms are reporting very weak business conditions as well, so it is premature to declare the entire sector has entered an expansion phase." 
Regional indexes for July, based a three month moving average, were Northeast 54.3, South 54.2, West 51.1 and Midwest 50.8, compared to June at 55.6, 54.8, 51.2 and 48.3, respectively.
Considered a leading indicator, the ABI represents a nine to twelve month forecast of the relationship between architecture billings and construction spending. Any score above 50 indicates an increase in billings. (Source: American Institute of Architects)
Latest in Steel Products