Steel Products Prices North America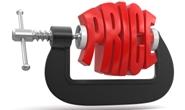 Service Centers Debate Spot Pricing Direction
Written by John Packard
September 29, 2013
---
Over the past week we have been receiving a number of calls and emails regarding both John Anton's (IHS Global Insight) forecast for higher steel prices as we move into 2014 and Andre Marshall's (Crunch Risk, LLC) hot rolled futures article where he points out that the market fundamentals will force flat rolled steel prices lower in 2013 just as they did in 2012.
A number of service centers have weighed in on the discussion and provided Steel Market Update with the following color over this past week:
We spoke to a Michigan based service center who told us there could be some minor price erosion in 4th Quarter due to "seasonal slowdowns." However, this service center executive told SMU that any adjustments lower would be slight. "We won't see a crater effect," was his opinion. He went on to state that AK Steel was having tremendous problems getting caught up and was especially late on cold rolled items. He also told us, "By November or December the pipe and tube companies will be looking for hot rolled" to replace the foreign oil country tubular goods (OCTG) lost through the filing of trade cases.
He went on to say, "If they [other service centers] think the market is going down they buy less steel. If they think the market is going up they buy more. It's a herd industry.  Follow the dog who is wagging its tail. When the market [raw steel production] is at less than 80 percent of capacity it is very hard for the mills to control pricing. Next year demand will increase and the bigger risk is for the prices going up. Raw materials haven't collapsed.  Without raw materials collapsing I don't see the mills taking prices down. Pipe and tube has hit yet.  The big OCTG players will have to buy more steel [domestically]. This could result in another 120,000 to 150,000 tons of hot rolled being added per month. I'm buying steel every day. I would not mind having a larger inventory going into the 4th Quarter. The upside is greater than the downside."
Another service center reported to SMU during the week, "We're lean inventory. We are not trying to build inventory. We are under 60 days and we will remain that way for some time to come." He also told us, "Supply will catch up with demand."
We heard from a service center on the east coast who told us, "Business is okay. No big changes either way. Mill pricing has gotten a little softer but nothing crazy. And the foreigners have held their 4th quarter pricing into the new year. No great deals out there. Much will be dependent on the domestic prices and outages going forward. End users in our area are sorry they did  not make longer deals on pricing. They do not like where pricing has gone and are waiting for reductions. No one is truly concerned about CRU pricing or the lack thereof. Ordering quantities have gotten smaller and delivery requirements have gotten tighter."
This will continue to be a topic of debate and one we will address in our next SMU steel market survey which begins on Monday morning of this week.

Latest in Steel Products Prices North America