Scrap Prices North America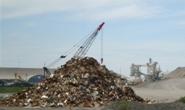 December Ferrous Scrap Forecast to Move Sideways to Up $10
Written by John Packard
November 24, 2013
---
SMU Sources Forecast Scrap to Rise by $40 by the Beginning of the New Year
Steel Market Update (SMU) scrap sources are forecasting ferrous scrap prices to rise by approximately $40 per ton by early January.
December scrap prices are projected to be flat (sideways) to up slightly from November scrap pricing levels. However, scrap is sold on a regional basis and some areas could see ferrous scrap prices exceed the up $10 per gross ton level being discussed by many dealers and other industry periodicals.
Flows into the yards on obsolete grades have been weak. The expectation by dealers is for demand in December to be modest thus holding prices at November levels or slightly higher ($10).  December orders from the domestic mills are expected to be minimal due to heavier buys in November and a shorter production and shipping month due to the Holidays. This may be tempered in the Midwest where Midwest mills may be motivated to buy more scrap early due to winter weather setting in which makes collection of scrap more challenging for the yards.
Dealers anticipate ferrous scrap prices will rise once we move into the New Year. This will be due to higher first quarter needs by the domestic mills as they come off the holidays and a squeeze on supply due to winter weather and reduced scrap flows.
One of the larger scrap groups also reminded SMU that "…finished steel pricing will also likely impact expectations moving into 1st Quarter." In other words, if steel prices continue to rise the expectation will be for scrap prices to follow.
Here is how one of our sources located in the east pegged market conditions at this time:
We have been seeing very tight inflows of obsolete grades, especially shredder feed, all month.  Frankly, I have not seen such weak flows in years.  The issue is that while some dealers may be holding scrap back, the reservoir of available material is just very shallow.  The tightest grade from what we see is shredded, though the cut grades are hardly plentiful.  
 
We have been raising our prices throughout the month, and some mills, including those in the Philadelphia market, have been doing the same, but no one is getting the flows to improve much.  I expect to see a $40/GT increase in obsolete scrap prices between now and the end of the January buy programs.  
 
Mills will come into the market in December and say they don't need much scrap so the best they are going to do is offer sideways deals or maybe a few dollars more.  That may work for a mill that has inventory on hand.  But not all mills do, and those who need scrap will I think need to pay up – $20/GT minimum – to get it.  Quite possibly more.  
 
Export demand volume has been lackluster.  Prices have been relatively stable for several weeks but not much has been traded either on sales to Turkey or into the export yards themselves.  That lack of volume has kept a lid on prices.  What happens over the next several weeks depends on Turkish need for scrap.  It's a waiting game.  Demand there should not get much worse for the time being but may not get a lot better very soon either.
 
The absence of Claymont is helping the local mills a little.  There are some large demo jobs in the Philadelphia area right now which is also making it easy for the mills to buy Plate and Structural scrap.  Exporters are the beneficiaries of Claymont not buying #1 HMS.  I do expect there to be some disposition of that mill such that someone will restart it at some point.  It is a good mill.  Evraz put some serious money into it over the last several years.  It has a good labor force and some unique products.  It doesn't make sense for Evraz to own it now but it probably makes sense for someone else.

Latest in Scrap Prices North America