Steel Products Prices North America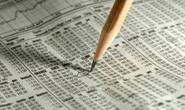 October Preliminary Imports Increase
Written by Brett Linton
November 26, 2013
---
The U.S. Department of Commerce released preliminary October import figures earlier today, estimating total imports of 3,059,358 net tons (NT). This tonnage is the highest monthly figure since May 2012 when total imports were 3,064,008 NT.
With the exception of hot rolled products, imports increased month-over-month (MOM) in October for all products in the table below. Looking into projected November figures, it appears that imports will decline on a MOM basis for those same products, with the exception of hot rolled.
October preliminary imports are all above both the 3MMA and 12MMA for all products besides hot rolled.
Note: According to the DOC website, they did not collect license data from October 1st through October 16th. Therefore, September and October license data are incomplete, so the figures below should be taken with caution. (Source: US DOC)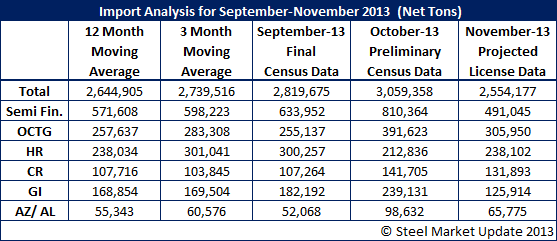 Latest in Steel Products Prices North America