Toll Processors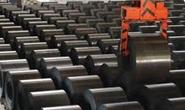 Fulton County Processing to Install New 500,000 Ton Year Pickling Line
Written by John Packard
December 5, 2013
---
DELTA, Ohio – Dec. 5, 2013 – Fulton County Processing (FCP), a northwest Ohio-based, state-of-the-art steel coil processing company, has announced it will be installing a new hydrochloric push/pull pickling line set to be operational in late 2014. The $20 million project will require an 82,000 square foot expansion to the plant, which will house the new line, provide for additional storage space and increase rail car capacity. When completed, the project is expected to create 14 new jobs.
"This new line will not only increase the production capabilities of the plant," said Jeff Kunkel, general manager at FCP, "but it will allow us to capture a significant amount of business that has been leaving the area."
The new line, a 4 tank Butech Bliss/Nelson engineered pickling line, will feature anti-coil break roll technology, and will handle a maximum coil weight of 74,000 lbs. The maximum product width will be 72" in thicknesses .060 to .375, but thickness capabilities extend up to .500" at 50" maximum width. Also featured will be a Parsytec in line inspection system and a shape correction unit for material up to .250 thick, which will guarantee superior product quality.
FCP currently houses and operates 3 slitting lines and one pickling line. The new push/pull line will increase the annual pickling capacity to from 120,000 tons to nearly 500,000 tons, pushing the annual plant product capacity to over 1 million tons.
"Expansion has always been our goal," said Kunkel. "Significant customer input has been put into planning this new capacity, and we are thrilled to see it now come to fruition. This is just one of the many steps we are taking to ensure that FCP can fulfill the needs of our growing customer base today and tomorrow." (Source: Fulton County Processing Press Release)

Latest in Toll Processors