Scrap Prices North America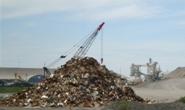 Scrap Prices Meeting & Somtimes Exceeding Expectations
Written by John Packard
December 5, 2013
---
The original forecast for December scrap pricing was for ferrous scrap prices to move sideways (no change) to slightly higher, maybe $10 per gross ton. That was three weeks ago. As the month of December moved closer, the expectation for a sideways move was replaced with up $10 to $20 per gross ton.
The month is upon us and we are gathering numbers from around the country and they are all over the place. The Chicago market has been relatively easy – all ferrous scrap items followed by Steel Market Update (#1 HMS, shred and #1 busheling) were all higher by $20 per gross ton.
Elsewhere it was anything but easy. We heard from one scrap dealer in the New York/New England area who reported their prices were up $20 on shred and cut lengths and up $10 per gross ton on busheling. Another dealer on the east coast pegged scrap prices in their area at $350-$355 for HMS and shredded scrap was reported to be selling at $385-$390 per gross ton. At these numbers the dealer told us they did not sell much.
In Wisconsin, we collected information that their shred prices were up $20 to $400 per gross ton while prime grades (such as busheling) were only up $10 to $440 per gross ton.
One of our pig iron sources advised pig iron is going for $420 gross ton loaded barge New Orleans.
From a southern perspective we found shred prices up $30 per gross ton, HMS up $18-$20 and busheling up $10-$15.
One of the larger companies in the scrap business provided some insights as to what is happening in the ferrous scrap markets at this moment and what to expect moving forward:
"The market is highly fragmented at this point.  There are pockets of strong demand where pricing is up $35+/GT across the board and other areas where consumers are "holding their ground" and opting to consume inventory.  Net, net scrap demand looks solid through January and I would anticipate pricing to continue to strengthen as supply wanes.  Finished steel pricing will continue to have an impact on scrap prices as mills today are enjoying record metal spreads.  Of particular note on the demand side, it appears the long products producers are experiencing a marked improvement in their order books.  Given many are EAFs and heavily weighted to scrap, this increasing demand potentially sustains the scrap market well into Q1."
They pegged the market prices as being:
#1 HMS = $405-$410 per gross ton.
Shred = $420-$425 per gross ton.
Bush = $435-$445 per gross ton.
At the moment, Steel Market Update would peg the Midwest scrap prices as:
HMS = $400-$410 with an average of $405 per gross ton.
Shred = $420-$425 with an average of $422.50
#1 Busheling = $435-$445 with an average of $440.

Latest in Scrap Prices North America