Steel Mills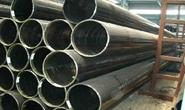 Olympic Steel Reports Loss for Q4 but Gain for FY 2013
Written by Sandy Williams
February 27, 2014
---
Olympic Steel reported a net loss of $1.4 million for the fourth quarter 2013. Net sales for the quarter were $290.5 million, nearly even with Q4 2012 sales of $291.7 million
Full year results showed an increase in net income to $7.6 million. Full year sales declined 8.7 percent to $1.3 billion in 2013, shy of Olympic's record high of $1.4 billion in 2012. Cashflow from operating activities nearly doubled to $55 million.
"This reflects inventory and other working capital improvements and allowed us to strengthen our balance sheet by further reducing debt," said Chairman and Chief Executive Officer Michael D. Siegal commenting on the increase in cash flow. "We also lowered costs during the year, while aligning our management and operating teams to support strategic growth."
Sales of flat products fell slightly to $235.1 million in the fourth quarter from $248.5 million in Q3. Net sales for FY 2013 decreased 9.8 percent to $1.03 billion from $1.14 billion in 2012. Total tonnage sold in the flat products segment in 2013 was 1.09 million tons, a 4.7 percent decrease from 1.14 million tons in 2012. Average selling prices in 2013 decreased to $943 per ton, compared to $996 per ton in 2012
Tubular and pipe product sales held nearly steady at $55.4 million in the fourth quarter compared to $55.5 million the previous quarter. Net sales for tubular for the full year 2013 decreased 3.7 percent to $236.6 million from $245.6 million in 2012.
In the Olympic conference call President and COO David Wolfort commented on the increasing popularity of manufacturers re-shoring operations.
"In addition to the rapidly changing energy landscape there are a number of other factors reinforcing this trend," he said. "The wage gap is shrinking as labor costs and age has escalated and the fluid nature of foreign currency valuations also mitigates the advantage of offshoring. Moreover, manufacturers have increasing become concerned about issues that can potentially impact their brand reputations and operating efficiencies, such as intellectual property rights, vendor risk and supply disruptions. Just in time manufacturing is now the norm and customers cannot tolerate weeks or months for delivery."
Wolfort added, "We have contoured our value added services to meet customer needs to such a degree we describe ourselves as 'lean manufacturer enablers.'"
Regarding a question about CRU, Wolfort said "while CRU is still published, quite frankly, the producers are not using it to any great extent."
Siegal commented on the necessity of an indice for hedging. "There is no question that hedging, however, is gaining small momentum and there has to be some indice out there which the hedging, which is being used more often, is going to have a basis of both sides of the transaction. So we're seeing some increase in hedging activity and regardless of the indice, whether it is CRU or another one, it still has to exist."

Latest in Steel Mills