SMU Data and Models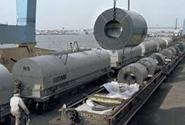 Mill Lead Times Slip
Written by John Packard
June 5, 2014
---
According to the results of our latest flat rolled steel market survey just completed earlier today, mill lead times are slowly beginning to move in (get shorter) on almost all products followed by Steel Market Update.
Our respondents reported shorter lead times on hot rolled which were at 4.91 weeks on the 15th of May and are now being reported as averaging 4.52 weeks. However, the latest HRC lead times are still further extended than the 3.38 weeks reported at this time last year.
Cold rolled lead times are averaging 6.72 weeks down from 7.04 weeks in mid-May and one week less than the 7.84 weeks reported during the middle of April. Last year CRC lead times averaged 5.19 weeks.
Galvanized lead times moved from 7.14 weeks down to 6.86 weeks based on this week's survey results. Last year galvanized coil lead times averaged 5.67 weeks or about one week less than where we are today.
Galvalume has been the least affected product with AZ lead times averaging 6.55 weeks down slightly from the 6.67 weeks reported during the middle of May. One year ago AZ average lead time was 6.10 weeks.
Shrinking lead times will many times point to a more robust negotiation process between the steel mills and their customers as prices begin to slip in order to fill holes in the steel mill order books. Here is what the recent history for steel mill lead times (based on SMU steel survey results):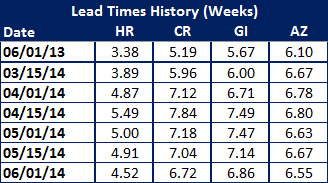 Latest in SMU Data and Models