International Steel Mills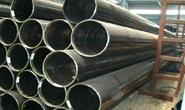 Jindal SAW to Acquire Mississippi Pipe Maker PSL North America
Written by Sandy Williams
August 27, 2014
---
Jindal SAW Ltd, through its subsidiary Jindal Tubular USA LLC, will acquire all of pipe and tube producer PSL North America LLC in a bankruptcy purchase agreement.
The purchase price was undisclosed but assets of PSL North America and PSL USA (which owns a majority stake in PSL North America) were listed at $50 million each with debt of $130 million in the Chapter 11 document filing. According to court documents, PSL USA offered to sell all of its assets to Jindal Tubular for $100 million.
In June, PSL North America and PSL USA entered a voluntary petition for relief under Chapter 11 with the US Bankruptcy Court for the District of Delaware. Jindal Tubular entered a purchase agreement with PSL on August 16, following court approval. The acquisition is expected to conclude at the end of August.
PSL North America, a Mississippi-based manufacturer of large diameter, high pressure steel pipe, is an American and Indian joint venture controlled by PSL SAW Ltd in Mumbai. Jindal SAW is a leading pipe and tube maker in India and one of India's largest producers of submerged arc welded (SAW) pipe.
Latest in International Steel Mills