Steel Mills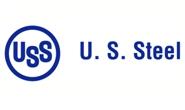 USS Canada Losses Continue to Accumulate
Written by Sandy Williams
December 18, 2014
---
US Steel Canada cash flow improved in October with receipts totaling $360.8 million. A ten percent increase in production at Lake Erie Works and a willingness by vendors to extend credit to the troubled company were the primary factors in USSC results, according to a report by court appointed monitor Alex Morrison. Although cash flow improved since USSC entered credit protection, net losses continue to mount each month. In the first ten months of 2014, net loss for USSC totaled $198 million primarily due to the negative impact of Hamilton Works.
From January to October Hamilton Works generated $527.8 million compared to $1,286.7 million at Lake Erie Works. Net loss at Hamilton for the period totaled $228.8 million while Lake Erie showed net income of $30.5 million.
Steel making operations at Hamilton were idled in 2010 and permanently shut down in 2013. Coke production was stopped October 31, 2014 after providing enough supply to last Lake Erie Works through April 2015. Remaining operations at Hamilton consist of a cold reduction mill and two galvanizing lines.
Lake Erie Works operations include iron and steel making and finishing, a pickling line, and coke production (re-started in Sept. 2014).
In a revised forecast for November 22, 2014 through January 30, 2015, it was determined that USSC will not need to draw on the debtor-in-possession (DIP) funds from parent company US Steel. Morrison determined that USSC's cash position will dwindle from its current amount of $102.8 million to $33.2 million by the end of January. So far USSC has used $30 million of its $132 million cash on hand when it filed for creditor protection.
Morrison says the negative cash flow will mostly result from stockpiling raw material before the St. Lawrence Seaway freezes for the winter.
US Steel Canada was granted creditor protection by the Ontario Superior Court on September 26, 2014. Originally the company was to find a buyer for Hamilton and Lake Erie Works by Nov. 15. That deadline has been extended several times and the most recent one, December 16, expired on Tuesday. The credit protection for USSC currently expires on January 23, 2015.

Latest in Steel Mills