Final Thoughts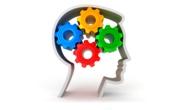 Final Thoughts
Written by John Packard
January 7, 2015
---
Steel buyers seem to be unanimous in their opinion of the current steel environment which I heard countless times today termed as "crazy." Hot rolled buyers are telling SMU that the offers are starting in the $560-$580 range with the caveat "let's talk" should the buyer actually have some decent tonnage to place. We have heard from buyers that AK Steel Dearborn has holes that they did not expect. Obviously any mill that had a strong order book with line pipe and OCTG providers is now suffering and looking for alternatives. We continue to have our SMU Price Momentum Indicator pointing toward lower prices over the next 30 days.
And what the frack is with the state of Texas and their earthquakes…?
November 2014 Final Census data was published this week. We have written a bunch about imports lately so what I think I will do is share the most recent table with you. December tonnage is based on import licenses as discussed in our last issue of SMU.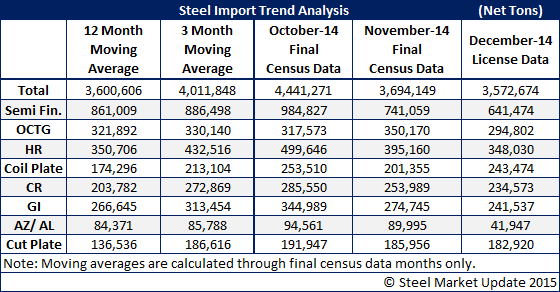 For our Premium level members – we hope to have November's imports by Product, Port and Country updated on our website either tomorrow (Friday) or on Monday morning. We also should have our flat rolled steel survey results Power Point presentation on the website by Friday afternoon.
I got a notice today from the Tennessee chapter of the AWMI (Association of Women in the Metals Industry) that they will have a dinner on Thursday, February 19, 2015 in Memphis, TN at Spindini and the speaker will be Justin Hewitt, Vice President of Sales, Mode Transportation. I have spoken to this group in the past and this is a great chapter. If you would like to attend contact kitty.schleimer@steelsummit.com.
See, I don't always just push our own conference and workshops. We are an equal opportunity pusher…
As always your business is truly appreciated by all of us here at Steel Market Update.
John Packard, Pubisher

Latest in Final Thoughts