Steel Products Prices North America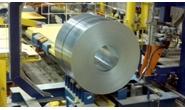 LME Zinc Prices Sliding as We Enter the New Year
Written by John Packard
January 8, 2015
---
Steel Market Update understands that a number of the steel buyers have recognized zinc spot prices have fallen below $1.00/pound and there are ongoing conversations with the domestic mills to review the extras put into place late last year.
In August 2014 the domestic steel mills announced new coating extras due to the run up in LME spot zinc pricing. Zinc spot prices, as you can see from the graph below, began moving off the lows of the year in March and by June and July had exceeded $1.05 per pound. In August, the domestic mills began advising their galvanized customers that new coating extras would be collected beginning in early October.
Zinc began dropping in November and by December had dropped below $1.00/pound. In early trading today zinc was at $0.97 (see graph below).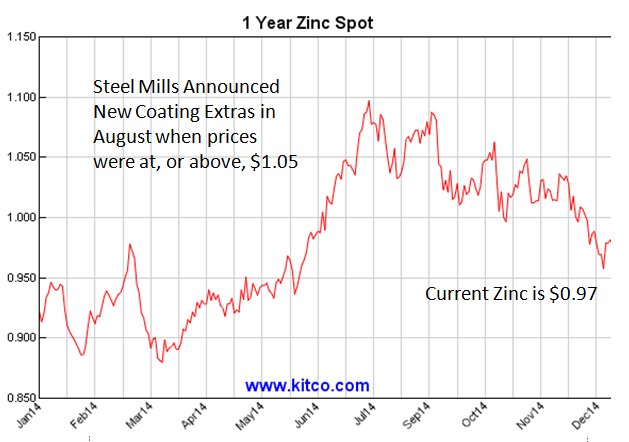 Galvanized buyers have begun to point out the lower prices to Steel Market Update and have been asking as to what point the domestic mills might reverse course on the October 2014 extras if spot zinc continues to fall.
We went back to the last time the coating extras were adjusted (lowered) which was in November 2011. In late 2010 and through the summer 2011, zinc spot prices were bouncing between $0.95/pound and $1.15/pound. By early 4th Quarter 2011 the bottom had fallen out of the market and zinc prices dropped below $0.90/pound. The new, lower extras went into effect in January 2012 and remained constant until the changes announced this past year.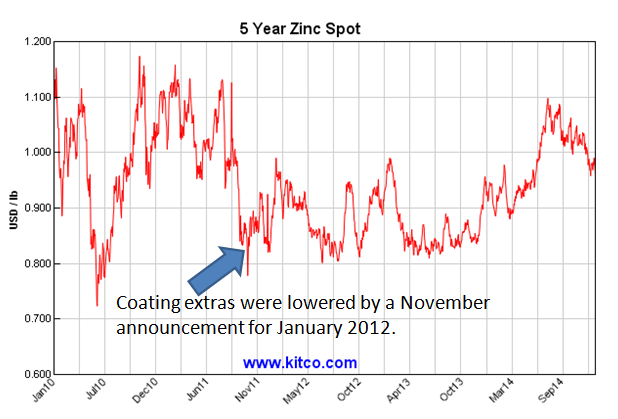 We have reviewed a number of forecast for zinc trading for 2015 and most analysts are forecasting zinc to remain above $1.00 per pound with most in the $1.05-$1.07 average for the calendar year. However, those of you buying galvanized and Galvalume products need to be aware of where zinc is trading and watch to see if a longer term trend in pricing develops.

Latest in Steel Products Prices North America