Steel Mills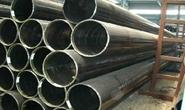 More Layoffs in Tubular Steel Industry
Written by Sandy Williams
January 11, 2015
---
Low oil prices and the proliferation of pipe and tube imports at below market prices are causing manufacturers to idle mills and lay off workers.
The latest round of layoffs comes from Tenaris which announced it will lay off 500 employees in Conroe, Texas and in Blytheville, Arkansas.
"The energy industry's present circumstances have driven Tenaris to make these reductions," said Tenaris in a statement. "Despite the positive OCTG (oil country tubular goods) trade case ruling, the U.S. continues to see record levels of imports of OCTG from South Korea. This has been aggravated further as oil prices have fallen over a short period of time, reaching a five-year low.
In December, Tenaris announced that 180 hourly employees would be laid off as of January 5 at Tenaris Algoma Tube in Sault Ste. Marie.
US Steel idled tubular manufacturing facilities in McKeesport, Pa and Bellville, Texas in early August citing unfair imports and affecting 45 management personnel and 215 rank and file workers. And just last week, the company announced 756 employees at steel tube plants near Cleveland and Houston were given notice—614 workers at Lorain Tubular and 142 in Houston.
A quick count brings the total number of tubular steel employees out of work to just shy of 1700 in the U.S. and Canada since August 2014—counter to the benefit of low oil prices that is expected to add 300,000 new jobs to the economy, according to calculations by Goldman Sachs. The energy sector, the primary loser from falling oil and fuel prices, provides just 1.4 percent of all U.S. employees per data from Deutsche Bank. Some economists view the current job losses as acceptable collateral damage when weighed against the potential benefits for the American economy.
The benefits of lower oil prices for U.S. economy are numerous. The dramatic cut in fuel prices has helped push new car sales in 2014 to more than 16.5 million and is forecast to reach 17 million units sold in 2015. Automotive demand is expected to boost the current 12.1 million manufacturing jobs and add to the 1.2 million positions at auto dealerships. Fuel savings for trucking firms has led to reinvestment in the transportation and warehousing industries and higher wages for truck drivers. Low inflation, in sync with oil price decline, has helped to keep mortgage rates down (an average rate of 3.73 percent as last week) and spur residential home purchase. The National Association of Realtors predicts a 7.3 percent increase in sales of existing homes for 2015.
Whether tubular steel jobs are returned will depend on future oil prices as well as trade regulations on tubular imports. Imports of oil country tubular goods were up 21 percent in December according to an analysis of Commerce Department data by AISI. It remains to be seen whether the U.S steel industry can afford to absorb the production and job losses due to low oil prices and cheap imports.

Latest in Steel Mills