Economy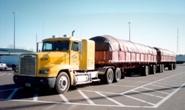 Logistics Issues to Persist in 2015
Written by Sandy Williams
January 16, 2015
---
The Cass Freight Index report showed a 6.3 percent month-over-month drop in shipment volume in December, in line with seasonal expectations. The peak holiday shipping season is generally July to September, but Cass Information Systems says the peak in 2014 was earlier due to concerns related to the expiration of the ILWU labor contract at West Coast ports on July 1. Retailers imported stock sooner and some diverted shipments to the East Coast and Gulf Coast ports. Shipments were still 4.0 percent higher than December 2013.
Freight expenditures declined 6.7 percent in December, due to the drop in shipment volume and weaker spot prices. Freight costs continue to decrease due to falling diesel fuel prices. DAT Trendline reported fuel prices down 6.5 percent from November to December. Spot market capacity was up 1.7 percent in December.
Flatbed availability rose 72 percent during the week Jan. 4-10 with truckload capacity of 139 percent, according to DAT Trendlines. The load to truck ratio was at 16.5 loads per truck from 22.9 the previous week. Diesel fuel prices dropped from $3.213/gallon December 29 to $3.053 on Jan. 12, as reported by the Energy Information Administration.
The Association of American Railroads reported total rail traffic as of the week ending Jan. 10 was 517,520 carloads and intermodal units, an increase of 4.9 percent from a year ago. Weekly intermodal volume of 240,947 containers and trailers was up 2.1 percent compared to the same week in 2014. Shipments of metallic ores and metals increased 17.6 percent year over year. In comments on the rail industry, Cass predicts infrastructure and equipment constraints will still be present in 2015. Shippers can expect higher rates but better service than 2014, writes Cass.
Cass noted that although 2014 was a strong year for the logistics industry, problems with capacity and congestion still need to be worked out. Truck driver shortage continues to be at crisis level and, with increased demand and new equipment investments, the struggle to find and train, and retain new drivers is exacerbated. Rates are likely to increase to reflect labor increases.
"Expect to pay higher prices to have the guaranteed capacity you need in 2014. It will be harder to find available capacity at any price in peak shipping periods," writes Cass in their report.
The ocean carrier industry has been struggling with overcapacity and new alliances are expected to reduce the number of competitors providing services. Carriers seek to increase rates and maintain higher rates after years of losses, portside issues, however, have resulted in "higher prices for slower and less reliable service."
Writes Cass,"Landside issues at ports have and will continue to contribute to service degradation. Unresolved port labor contracts and disputes, severe chassis fleet problems, longer wait times affecting drayage carriers' daily turns, and truck drivers' reduced hours of service are introducing more port congestion and delays as volumes rise. Ports accepting the largest TEU container ships are not equipped, either from a labor or equipment standpoint, to handle the unloading and distribution process smoothly. The change in chassis management has resulted in an inability to have sufficient chassis where they are needed when they are needed."
Cass expects labor and operations problems at the ports to persist in 2015 with infrastructure issues taking years to resolve.

Latest in Economy