Steel Mills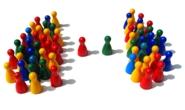 AK Steel CEO Points Out Foreign Import Excesses
Written by John Packard
January 27, 2015
---
AK Steel CEO, James Wainscott, spoke to analysts this morning regarding AK Steel 4th Quarter and calendar year 2014 earnings. We have a separate article which speaks to their earnings. What we have done is to point on some of the highlights of the call from our perspective:
AK Steel did a major reline of the Ashland blast furnace for the first time in three decades. The furnace, which one year ago was causing AK major headaches, is operating well and they do not expect to do any more work on the furnace until 2019.
Dearborn Works: "Dearborn Works established all-time records for safety, allowing the lowest number of OSHA-recordable injuries in any quarter ever, and quality, dramatically reducing rejected and retreated products, as well as secondary sales, and productivity, achieving substantial gains in steel-making and setting production records at the coating line." (James Wainscott)
Seventy-five percent of AK Steel's business is in the contract market with the remaining 25 percent in the spot market.
Imports & Possible Trade Cases
"Simply put, there's too much supply for the current demand level. Why? Because of imports. Between 2013 and 2014 flat-rolled finished carbon steel imports rose by some 60%. For the year, we saw more than 11 million net tons of flat-rolled carbon steel imports compared to less than 7 million tons in the prior year. To put that into perspective, it's the equivalent of having a new 4 million-ton steel mill appear roughly overnight in the domestic carbon steel market. The increased supply has had a negative impact on pricing in the domestic market, especially in the spot market. In fact, it's put undue pressure on carbon prices and we experienced a bigger price decline than we expected in the fourth quarter of 2014 as a result. It's off this low base that we embark for 2015." (James Wainscott)
"Given the troubled economies outside the United States and the huge increase in their steel exports to the U.S., our attorneys are taking a hard look at whether or not a trade case should be filed. But one thing is crystal clear, we've been injured. Both AK Steel and the U.S. Steel industry have been significantly harmed as America has become the dumping ground for foreign produced steel.
"How fast we can prove injury and how quickly we can accelerate the process is key. I might add that our contract pricing is not immune and in fact, has already been hurt as well from the pricing pressures brought about by the sharp increase and lower priced imports. When all the numbers are tallied, we expect that finished steel import figures, for 2014 will show it to be the highest import market share in history at about 28%. Clearly, we're focused on this issue and you'll be hearing more about it, so stay tuned." (James Wainscott)

Latest in Steel Mills