Steel Mills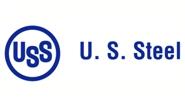 US Steel Announces New Capacity Reductions
Written by John Packard
January 27, 2015
---
On Monday after the financial markets closed, US Steel announced the company would temporarily reduce operations at their Lone Star Tubular Operations in Lone Star, Texas as well as their Fairfield Tubular Operations in Fairfield, Alabama. USS Fairfield Works, which is the primary flat rolled supplier of rounds to the Fairfield Tubular plant will also adjust operations.
It is not yet known if the reduction of capacity at Fairfield Works will mean the idling of their one blast furnace at the plant. The rumor mill has been circulating for awhile that the idling of this furnace was being considered. We will learn more about the exact nature of the production curtailments when U.S. Steel President and CEO Mario Longhi conducts the company's 4th Quarter earnings conference call with analysts on Wednesday at 8:30 AM ET.
The reason for the reduction in operations was due to, "…softening market conditions that reflect the cyclical nature of the energy market. Global influences in the market, like unfair trade and fluctuating oil prices, continue to have an impact on the business."
Steel Market Update has posted the full content of the U.S. Steel press release on our blog.
Latest in Steel Mills