SMU Data and Models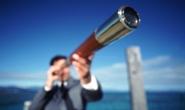 Steel Mill Lead Times Slip Further
Written by John Packard
February 5, 2015
---
Flat rolled steel mills saw their lead times shorten according to the buyers and sellers of steel responding to this week's market analysis. Weakening lead times are one of the keys which is impacting flat rolled and scrap prices – both down big over the past few weeks.
Hot rolled lead times average 2.79 weeks, which is essentially unchanged from two weeks ago but is much lower than the 3.89 weeks reported one year ago.
Cold rolled lead times also shrunk slightly over the past two weeks from 4.90 weeks to 4.77 weeks. One year ago CR lead times averaged 6.32 weeks.
Galvanized lead times dropped by almost half a week as we saw our average drop from 5.21 weeks to 4.83 weeks. One year ago GI lead times averaged 6.18 weeks.
Galvalume lead times dropped from 5.83 weeks to 5.50 weeks. We are now  looking at AZ lead times as being 1.21 weeks shorter this week than the same time one year ago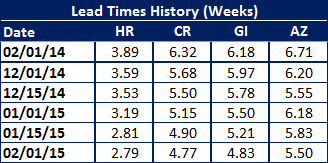 Latest in SMU Data and Models