Steel Mills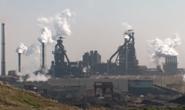 Mills Hoping Blast Furnace Outages Tighten Market
Written by Brett Linton
March 12, 2015
---
The domestic steel mills are resorting to adjustments in supply as a weapon against the chronic short lead times which are helping to push flat rolled steel prices lower and lower. The heavy lifting is being done by the integrated steel mills, especially by U.S. Steel which has taken three blast furnaces down over the past few weeks.
US Steel has taken down the lone blast furnace at their Fairfield Works facility in Birmingham, Alabama. This furnace is rated at approximately 6,000 tons per day of pig iron capacity and, when combined with their BOF, the mill had a steel making capacity of approximately 2.9 million tons on an annual basis. There is no timetable to return this furnace to production. The Fairfield Works facility is one of the plants where US Steel would like to install an electric arc furnace (EAF) to replace the blast furnace.
US Steel has also taken down a blast furnace at Granite City which is part of the larger project which is to replace one of the casters with the caster purchased from the former RG Steel Sparrows Point facility. This is expected to take 3-4 months and, with the blast furnace rated at 3,600 tons per day of pig iron production, this will affect slightly more than 500,000 tons of steel making at Granite City.
Gary Works #6 furnace has also been taken offline as announced during the company's 1st Quarter earnings conference call with analysts. The #6 furnace has a capacity of 3,800 tons of pig iron production per day. It is not known how long this furnace will be down but at 3,800 tons per day you are looking at 114,000 tons of pig iron production on a monthly basis (and a greater number of tons of steel capacity when combined with scrap in the BOF).
SMU has learned over the past few days that ArcelorMittal Indiana Harbor is taking down their #3 blast furnace on March 16th. The #3 blast furnace is capable of producing 1.5 million tons of pig iron or about 2 million tons of steel production when combined with scrap at the BOF.
There are other mills who are taking various pieces of equipment down for maintenance in order to better balance their order books.
So far, with a few exceptions, removal of the excess supply has not had the desired result. However, this could change and the mill to watch will be US Steel since it has three furnaces that are not producing steel at this time.
Steel Market Update anticipates that these disruptions in equipment will begin to have an impact on lead times at the domestic steel mills. The question is when…
ArcelorMittal told us in an email earlier today that they would be able to service their customers even with their #3 blast furnace down for maintenance at Indiana Harbor.
For those of you who do not realize this, Steel Market Update has a table in our website for our members where we attempt to keep up with the blast furnaces in North America. You must be logged into the website to access the data which looks something like this:
Blast Furnace Steel Mill Status
Mill Name / Plant

Furnace I.D.

Daily Capacity (Net Tons)

Running?

Comments

AK Steel
Ashland
Amanda
6000
Yes
 
Middletown
No. 3
6500
Yes
 
AK Dearborn
C Furnace
6000
Yes
 
AHMSA (Mexico)
 
No. 4
2700
No
Idle
No. 5
6500
Yes
 
No. 6
4500
Yes
 
ArcelorMittal
Hamilton (Canada)
No. 2
3200
Yes
 
No. 3
2500
Yes
 
No. 4
4700
Yes
 
Burns Harbor
C Furnace
7400
Yes
 
D Furnace
7400
Yes
 
Indiana Harbor
IH-3 W
4300
No
Going down March 16 until late Q2 2015
IH-4 W
4900
Yes
 
IH-5 E
2900
Yes
 
IH-6 E
5000
Yes
 
IH-7 E
11500
Yes
 
Cleveland
C-5
4350
Yes
 
C-6
4150
Yes
 
Essar Steel Algoma (Canada)
 
No. 7
8400
Yes
 
No. 6
3000
No
Possible restart in 2015
United States Steel
Edgar Thomson Works
No. 1
3450
Yes
 
No. 3
3100
Yes
 
Fairfield
No. 8
6000
No
Down for lack of orders
Gary Works
No. 4
4200
Yes
 
No. 6
3800
No
Down for maintenance, will come back up depending on market conditions
No. 8
3300
Yes
 
No. 14
9200
Yes
 
Granite City
A Furnace
3600
Yes
One furnace is down for 3-4 months to replace caster
B Furnace
3600
Yes
Great Lakes (Ecorse, MI)
A-1
4100
Yes*
*Only 2 of the 3 furnaces are running at any given time
B-2
3700
Yes*
D-4
4000
Yes*
Hamilton (Canada)
E Furnace
5500
No
Shut down October 4 2010 & removed from active status
Lake Erie (Canada)
No. 1
6575
Yes
 

Latest in Steel Mills