SMU Data and Models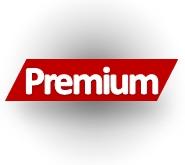 Flat Rolled Steel Distributors Apparent Excess Inventories Down (But Still Not Enough)
Written by John Packard
March 19, 2015
---
Not to toot our own horn too loudly, we came within a whisker of nailing both shipments and inventories in our last Service Center Inventory Apparent Excess/Deficit forecast. In our last forecast we indicated flat rolled shipments would be 2,253,000 tons and based on the MSCI data released earlier this week the actual number was 2,156,000 tons. We missed (or the service centers were short shipments) by 97,000 tons.
On the inventory side, Steel Market Update forecast distributors will be holding 6,123,000 tons of flat rolled inventory at the end of February. The actual number according to MSCI was 6,148,000 tons. The service centers were holding 25,000 more tons than we expected (due to shipments being weaker than expected).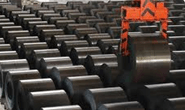 SMU forecast a reduction in the Apparent Excess that we had measured at the end of January as being 1,145,000 tons. Our forecast called for the excess to drop to 720,000 tons. Based on our proprietary model the actual inventory excess being carried by U.S. service centers was 850,000 tons as of the end of February. We correctly predicted that inventories would be reduced but they did not move as low as we had expected.
In our opinion the failure of the service centers to gain control of their inventories will move out the period of time needed to get back to a balanced situation. We originally thought that service centers would need to begin ordering inventory on a more normalized basis as lead times reached May. At this time, based on our new forecast (which we will share with you momentarily) takes us out an extra month to June or even into July.
As we look at our new forecast we made the following assumptions:
March: Daily shipment rate of 107,800 tons and daily receipts at 105,000 tons. We believe the imports for the month of March will continue to be in the 3.7-4.0 million ton range which, even with lower production levels at the domestic mills, will not allow receipts to drop as much as they need to.
We are forecasting total shipments of 2,372,000 tons and inventories dropping to 6,086,000 tons. If we are correct in our forecast the Apparent Excess should drop to 782,000 tons.
Our Apparent Excess model does not significantly drop until the month of May based on our shipment and receipt rate which results in total shipments and inventories as outlined in the table below.
We believe shipments will rise (slightly) over last year in the coming months and our hope is that the service centers can figure out how to restrain their thirst for imports and drop their receipts to 100,000 tons per day (February was 106,000+ per day).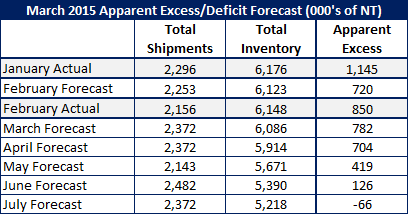 Latest in SMU Data and Models