Steel Mills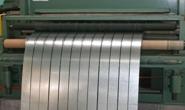 Reliance Expecting Price Increase Soon
Written by Sandy Williams
April 23, 2015
---
Reliance CEO Gregg Mollins is expecting a steel price increase in the "not too distant future." Steel prices have been bouncing near bottom due to a flagging energy industry and competition from extraordinary levels of steel imports. The spread between domestic and foreign is now thin, said Mollins, business is good, and demand is there. "So there is no compelling desire to go out and buy foreign, so if that the case and it has fallen below producers expectations, there is no reason for it not to go up."
"If I was a producer, I would announce a price increase today," he said.
Reliance Steel & Aluminum Inc. reported a solid first quarter despite those the headwinds of pricing and imports. Net income of $101.3 million was up 16.2 percent year over year and 9.8 percent from Q4. Sales rose 2.4 percent y/y and 1.5 percent q/q to $2.61 million for a total of 1.5 million total tons sold.
Carbon steel sales were up 4.8 percent sequentially but down 0.3 percent from a year ago. Total carbon steel sales were 1.25 million tons. The average selling price per ton fell 2.5 percent from fourth quarter. Falling carbon steel prices were due to high level of Imports and inventory overhang.
Demand improved in automotive supported by toll processing operations in the U.S. and Mexico. The increased use of aluminum in autos is a growth area for Reliance. Aerospace demand improved in Q1 and is expected to continue through the year. Heavy industry demand was steady.
Weaker markets included nonresidential which is improving but still well below peak levels. Demand for energy products has declined due to the drop in oil prices and is expected to remain pressured throughout 2015.
As of May 20, a transition of executive leadership will take place. David Hannah, CEO since 1999, and Chairman of the Board and CEO since 2007, will hand the CEO position to Gregg Mollins, currently President and COO. Hannah will serve as Executive Chairman until his retirement in July 2016.
Karla R. Lewis, Executive Vice President and Chief Financial Officer since 2002, will be promoted to Senior Executive Vice President and Chief Financial Officer;
William K. Sales, Jr., Senior Vice President of Operations since 2002, will be promoted to Executive Vice President, Operations;
James D. Hoffman, Senior Vice President of Operations since 2008, will be promoted to Executive Vice President, Operations; and
Michael P. Shanley, President of Liebovich Bros., Inc., a subsidiary of Reliance, was promoted to Senior Vice President, Operations of Reliance effective April 1, 2015.
In its business outlook, Reliance management said high import levels, the strong U.S. dollar and weak global economies will continue to put pressure on metals pricing. Sales are expected to increase in slightly in second quarter but downward pricing will impact average selling price and margins.
When asked about buying patterns during the conference call, Mollins said that customers are not buying a lot of imports lately. Some of the larger OEMS are, but smaller customers are watching pricing carefully and ordering smaller quantities and much more often.
"Our problem is not our customers buying it [imports], but our competitors buying it. When it comes in late they need to get rid of it and they lower their prices," said Mollins.
Reliance expects imports to be a major problem at least through second quarter. "Where does the problem lie in inventory? It's imports," says Mollins. "Our customers are living hand to mouth because they've seen prices going down, going down, going down."
When asked about future acquisitions, Mollins said that Reliance is ready if any opportunities come up. Unfortunately, those opportunities are fewer than a year ago, because when people are not making money they are less willing to sell their business for fear of not getting the price they want.

Latest in Steel Mills