SMU Data and Models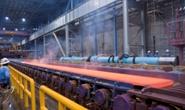 Steel Mill Lead Times: Mixed Results by Product
Written by John Packard
July 23, 2015
---
Domestic mill lead times are one of the keys followed by Steel Market Update as we evaluate steel prices and price momentum. A market where we see extending lead times tends to allow for the collection of higher steel prices throughout the industry (steel mills and distributors). When we see lead times collapsing we tend to see the same happening with steel prices.
Steel Market Update (SMU) asks the manufacturing and distribution companies to respond to inquiries by SMU about lead times. We combine all of the responses and come up with an average lead time by product. The lead times are referenced in the number of weeks it takes to get production/shipment on a new order placed today.
We just completed a flat rolled steel market analysis earlier today. The results regarding lead times were mixed. We found movement, both positive and negative, in this weeks results.
Hot rolled coil saw lead times slip from almost 4 weeks to 3.37 weeks. SMU understands that hot rolled has been the weakest product in the domestic steel market. One year ago HRC lead times were reported to be 4.23 weeks.
Cold rolled lead times remained relatively stable at 5.71 weeks. Cold rolled lead times are essentially unchanged going back to May.
Galvanized lead times dropped modestly this week to 5.95 weeks. Last month the lead time was reported to be 6.33 weeks. One year ago GI lead times were referenced as being 6.5 weeks.
Galvalume lead times extended to 6.90 weeks which is almost a half a week better than what we saw one month ago. Last year AZ lead times averaged 7.11 weeks.
To see an interactive history of our Steel Mill Lead Time data, visit our website here.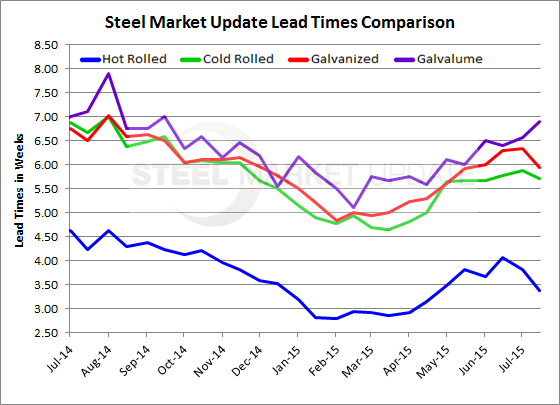 Latest in SMU Data and Models