SMU Data and Models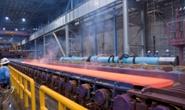 Steel Mill Lead Times: Treading Water
Written by John Packard
August 6, 2015
---
With the exception of Galvalume, steel mill lead times were reported as being essentially unchanged from what was reported during the middle of July by those who responded to this week's SMU flat rolled survey.
Hot rolled lead times continue to be one week shorter than what we measured one year ago and essentially unchanged from the middle of July. At 3.5 weeks we would consider hot rolled lead times to be slightly shorter than normal.
Cold rolled lead times were also unchanged from our last measurement in July. One year ago CRC (without a trade suit having been filed) saw lead times averaging 7 weeks. Now, with a trade suit having just been filed, we are closer to 5 and a half weeks. We have seen very little movement in CRC lead times going back to May 2015.
Galvanized lead times were also flat and have been going all the way back to the middle of May 2015. The 6 week average being reported this week is one week shorter than the 7 weeks reported one year ago.
Galvalume lead times were reported as being shorter this week than what we saw during the month of July as well as June. We are now back to the 6 week average we reported during the middle of May. Last year lead times were almost two weeks longer than what we just reported.
Lead times are suggesting that steel price momentum is muted at best. The lead times are better than what we reported during 1st Quarter 2015 and into early 2nd Quarter 2015.
To see an interactive history of our Steel Mill Lead Time data, visit our website here.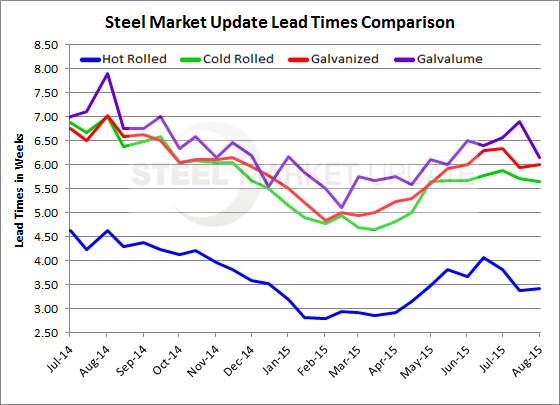 Latest in SMU Data and Models