Steel Products Prices North America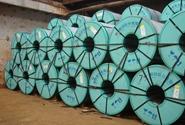 September Licenses Trend Rises to 3.0 Million Ton Mark
Written by John Packard
September 22, 2015
---
The U.S. Department of Commerce released new foreign steel import license data this afternoon that suggests imports for the month of September may not be below 3.0 million tons after all. At this moment, using data through today and projecting the rate to remain the same for the balance of the month, September would come in right at 3.0 million tons. If this pace continues this would not be a positive for the domestic steel industry as it deals with high inventories and slowing demand.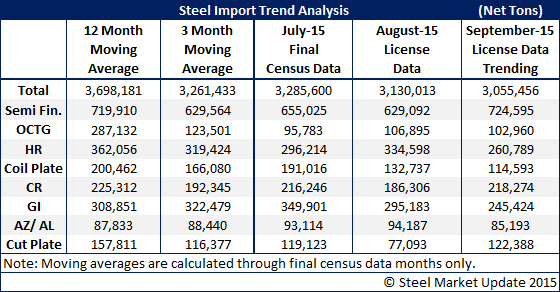 What is interesting is the domestic steel mills thirst for foreign slabs may be one of the main reasons pushing the numbers up. Current license data has semi-finished imports on a pace to exceed 700,000 tons for the month.
As you can see by the table below, semi-finished steels are the only product which has a consistent upward trend line over the past five months.  Most of the other products followed by SMU are showing signs of easing.

Not all of the products are easing and cold rolled, with its "W" shape, can't quite figure what it wants to do. That is probably due to the timing of the cold rolled antidumping trade cases and the flow of orders that were already in the system and scheduled to be produced and shipped. At this moment, Chinese cold rolled licenses are for 42,000 net tons for the month and we envision that with the trade case against Chinese cold rolled (and others) that these tons will be eliminated or displaced by other countries.
One country we are watching is Vietnam which is mentioned by many buyers when discussing where cold rolled might come from once the Chinese are totally out of the market. However, when reviewing the license data there have been very few requests or imports of cold rolled steel out of Vietnam.
However, Taiwan has increased their participation in the market as they currently have 5,600 tons of license requests which would be the most cold rolled seen since out of Taiwan since August 2014. Taiwan was one of the countries hit by the galvanized trade suit.
Corrosion Resistant products (which included galvanized steels) were the first products hit by trade suits going back to June 3, 2015. The ITC will be announcing its Preliminary Determination of countervailable subsidies on November 2nd. There will also be a ruling regarding Critical Circumstances on coated steel by that date as well. These two decisions should have a large impact on galvanized  imports out of China, India, Taiwan, South Korea and Italy.
Of the 245,424 tons of galvanized imports (trending – not actual) for the month of September, 142,506 tons are from the 5 countries named in the June 3rd trade suit. China is already much lower than it had been with only 10,900 tons of license requests through the 22nd of September.
Again, Vietnam is named as one of the possible replacement countries when you talk to buyers about galvanized but there have only been a handful of tons actually delivered to the United States with August being their biggest month at 1,400 net tons…
The countries who are building their galvanized participation are: Brazil and to a much smaller extent Turkey. It is doubtful that Brazil and Turkey can replace the tonnage of the five countries hit by the trade suit.

Latest in Steel Products Prices North America