Shipping and Logistics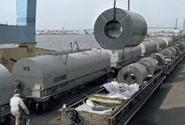 Shipping Update for January 2016
Written by Sandy Williams
January 18, 2016
---
On Tuesday, January 19, the Baltic Dry Index hit its lowest point ever, dropping to 363 points. The BDI tracks shipping rates for dry bulk cargos like iron ore, coal and grain and is considered a barometer for global steel trade. To put things in perspective, six months ago, on August 8, 2015, the Index was at 1,222 and has dropped 115 points so far in January of this year. The capesize, panamax, supramax, and handysize indices were at all-time lows on Tuesday.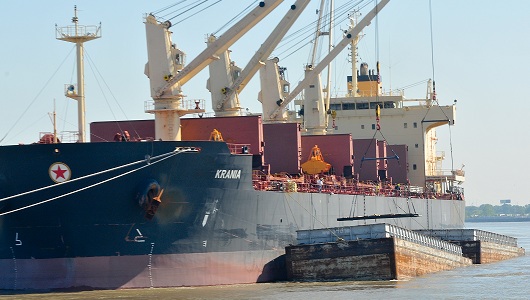 The dry bulk sector has been hit hard by the Chinese slowdown while still struggling to get ship overcapacity under control. Cargo of iron ore and coal carried on 150,000 tonne capesize vessels has been especially impacted. Ship owners faced massive losses in 2015 as commodity prices collapsed taking along with them steel mills and mining companies.
The MID-SHIP Report for Jan 15 says the dry bulk market faced headwinds in 2015 that will likely continue in 2016. MID-SHIP writes, "An already over supplied dry bulk market (vessel side) was further undermined by slowing growth in China. Historic start of U.S. crude oil exports contributed further price pressure in the oil markets, additional kick to tanker rates and a mixed blessing for dry bulk operators (reduced fuel costs and further pressure on voyage-based freight rates.)"
Inland waterways
Flooding on the lower Mississippi has caused problems for river navigation. Five barge accidents were reported on the river last week. Silt build up has reduced the draft at the SW Pass/Mouth of the Mississippi to 43 feet. The Corps of Engineers is sending a dredger but deepening of the channel is expected to take a few weeks. High water conditions on the upper river system have frustrated navigation, bringing barge traffic to a stop on the upper Illinois and Arkansas Rivers.
So far, says MID-SHIP, challenging river conditions have not caused a significant upward impact on rate levels.
Trucking
Linehaul rates increased only 1.1 percent year over year in December, according to the Cass Truckload Linehaul Index.
Writes Cass Information Systems, "This caps 12 consecutive months of year-over-year declines, a decline that is second only to the 13 months from Dec 2008 through Dec 2009 since the index inception in 2005 (albeit this recent cumulative decline is considerably less than that experienced throughout '09). Although analysts at Avondale Partners expect intermodal volumes to grow in the low single digits, they predict 'rates will continue to decline in 2016 as the dramatic drop in diesel prices and even more dramatic drop in oil takes its toll on US domestic demand.'"
The Intermodal Price Index also dropped for the 12 month in a row, falling 3.8 percent year over year in December. Intermodal volume is expected to grow in low single digits, according to Avondale Partners, but rates will continue to decline as "the dramatic drop in diesel prices and even more dramatic drop in oil takes its toll on US domestic demand."
DAT Trendlines saw truck capacity ease in the first week of 2016. Flatbed load to truck ratio was down 7.6 percent the week of January 3 through Jan. 9 from 11.4 to 10.5 loads per truck, while flatbed spot rates held steady.
The American Trucking Association reports that For-Hire Truck Tonnage improved in December after a decline in November.
"Tonnage ended 2015 on a strong note, but it was not strong for the year as a whole," said ATA Chief Economist Bob Costello. "With year-over-year gains averaging just 1.2% over the last four months, there was a clear deceleration in truck tonnage.
"At the expense of sounding like a broken record, I remain concerned about the high level of inventories throughout the supply chain. The total business inventory-to-sales record is at the highest level in over a decade, excluding the Great Recession period. This will have a negative impact on truck freight volumes over the next few months at least. And, this inventory cycle is overriding any strength from consumer spending and housing at the moment" he said.
Rail
The Association of American Railroads reported rail traffic in the first week of January was down 3.7 percent to 498,160 carloads and intermodal units compared to the same week in 2015. Carloads were down 13.5 percent while intermodal units increased 7.5 percent.
AAR president and CEO Edward Hamberger announced priorities for the rail industry in 2016 at the 246th regular meeting of the Midwest Association of Rail Shippers. Prioritized issues include "maintaining balanced economic regulation at the Surface Transportation Board (STB), extending the short line tax credit while laying the groundwork for overall tax reform and advancing security-safety legislation or regulation." AAR also reaffirmed that Positive Train Control technology will be fully installed, where required, by 2018 and all testing for full coast-to-coast operations completed by 2020.
Great Lakes
The shipping season officially ended on the Great Lakes with the closing of the Soo Locks on Jan. 15 and the commencement of ice breaking operations by the U.S. Coast Guard.

Latest in Shipping and Logistics