Steel Mills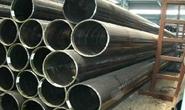 US Steel Lone Star Employees Warned of Possible Cuts
Written by Sandy Williams
January 21, 2016
---
US Steel may temporarily lay off almost 700 workers at US Steel Tubular Products-Lone Star in Houston. Employees were advised by US Steel that operations may be adjusted "due to softening market conditions." WARN notice listed by the Texas Workforce Commission on Jan 11 shows 679 employees slated for possible layoff beginning March 16, 2016.
A spokesperson for US Steel said the layoffs are part of a temporary shutdown. The total number of employees affected will depend on operational and maintenance needs.
"This potential action is part of an ongoing adjustment to operations due to challenging market conditions, including fluctuating oil prices, reduced rig counts, depressed steel prices and unfairly traded imports," wrote spokesperson Jessica Franklin in an email. "All of these factors continue to reduce demand for tubular goods."
U. S. Steel's Lone Star Tubular Operations facilities in Lone Star, Texas, specialize in the manufacture of Full Body Normalized Electric-Resistance Welded (ERW) tubular products for the oil and gas industry.
Latest in Steel Mills