Steel Mills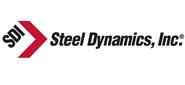 Steel Dynamics Reports Fully Booked Flat Rolled Mills w/ Strong Quarters to Come
Written by John Packard
April 24, 2016
---
First, Steel Dynamics Industries (SDI) reported an increase in steel shipments (+17%) and that they were continuing to grow, "…across all divisions but most significant in flat rolled." They went on to report customer inventory levels are now "better aligned with actual demand, which is supporting increased domestic steel production and now also flat rolled price increases as we head into the second quarter, especially for value-added products."
SDI CEO Mark Millett (who also happens to be one of our Steel Summit speakers) told the analysts, "The steel platform performed well in the first quarter. 2016 has certainly provided a changing landscape to the domestic flat roll market. Several positive macro shifts have resulted in significantly improved flat roll product pricing going into the second quarter. Flat roll steel import levels have declined, and global steel pricing has appreciated.
"Customer inventory levels are better aligned to actual consumption, supporting higher domestic steel mill utilization, and mill lead-times have extended. While demand has remained steady, the supply side drivers have led to much improved market dynamics. Our Flat Roll Steel divisions operated at basically full capacity for the quarter, supported by the strong auto build and construction pick-up. Although sequential long product steel shipments improved 9%, our long product mills were still challenged with end market weakness, operating at only 67% of their capacity. As the heavy equipment, agricultural and energy markets remain weak, [indiscernible] (11:51) for market share resulted in extensive published pricing discounts especially in the structural steel arena.
For the steel platform as a whole, driven by our flat roll operations, our production utilization rate for the first quarter 2016 increased to 88%. This compared to overall industry utilization of approximately 71%."
Mr. Millett pointed out that their Millennium operation was continuing to grow and was showing, "…positive insight into the continued growth of non-residential construction activity." He reported  energy, heavy equipment and the agricultural segments were "weak" and would likely remain so through the calendar year 2016.
He forecast the two largest domestic steel consuming sectors would remain positive: automotive and overall construction spending.
An additional positive was the reduction of foreign steel imports and the expectation that the trade cases will erode imports further.
During the question and answer segment of the call Mr. Millett responded to a question about what SDI was expecting for Q2 and Q3 which are normally strong periods for the mill. Mr. Millett responded with, "I think the markets are generally good. As we said earlier, it's a little bit of a mixed bag. Off-road equipment, energy, agriculture is definitely soft, but the more intense consuming sectors, automotive and construction, are remaining strong. I think the non-residential construction numbers, both the macro indices but also our order book would suggest that we're going to see continued growth in that arena. And we are fortunately highly leveraged. We've got about 2.5 million tons of excess capacity that we haven't been able to exploit yet, most of which is correlated to construction. So we do see the second quarter and the third quarter being very, very strong as we go forward."
CFO Theresa Wagler also weighed in with, "Then the one thing I would add to that, David, is that with the big bump that you saw in the first quarter, that was related primarily to the flat roll divisions, and the flat roll divisions were basically at very high capacity already. So any additional volume improvement you see would need to come through the markets that are attached to long product mills."
This is an important point for those of you who are flat rolled buyers to realize, essentially the flat rolled portion of the SDI order book is filled (or expected to be easily filled) during the second and third quarters 2016.
Mr. Millett told the analysts that he hoped to see apparent consumption grow from the 108 million tons of last year to "…perhaps, 111 million, 112 million tons this year."

Latest in Steel Mills